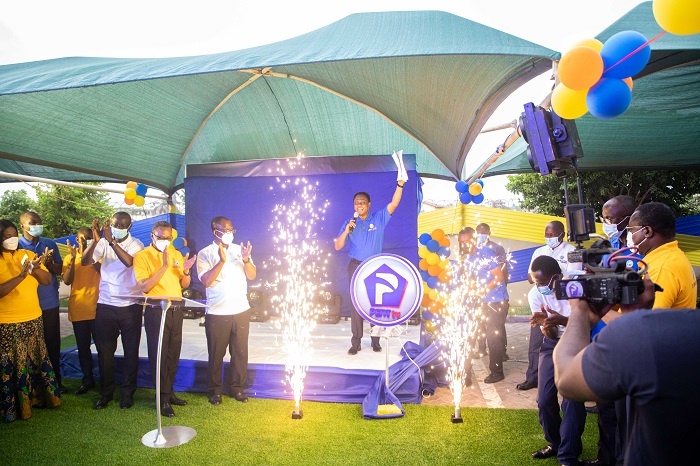 History was made Sunday night [March 20, 2022] as PENT TV, a Christian television station owned by The Church of Pentecost, was officially migrated unto the Digital Terrestrial Television (DTT) platform, making it a free-to-air television station.
The colourful launch was performed by the Chairman of The Church of Pentecost, Apostle Eric Nyamekye, at the church's Headquarters at La in Accra where the TV station is located. He was ably assisted by the General Secretary, Apostle Alexander Nana Yaw Kumi-Larbi, Pent Media Centre Board Chairman, Apostle Samuel Yaw Antwi, Pent Media Centre Board Members, as well as some Executive Council Members and Area Heads of the church.
Apostle Eric Nyamekye, on behalf of the General and Executive Council of the church, blessed the name of the Lord for His gracious love and mercy towards His Church and particularly the Pent Media Centre Board and the staff of Pent TV in enabling the church to achieve this feat.
According to him, the Vision 2023 of the church acknowledges the indispensable role of the media in modern society and, therefore, makes significant use of the media to advance the course of the gospel.
As a result, he said, the Church established the Pent Media Centre Board in 2021 to bring all the media arms of the church under one body and then position the media hub of the Church to be relevant and competitive in contemporary times.
"To achieve this, the Church acquire the Digital Terrestrial Television (DTT) also known as free-to-air license in October 2021 to enable Pent TV provides unlimited access to viewers who hitherto, could not watch PENT TV," he pointed out.
The Chairman paid glowing tribute to his predecessors such as Apostle Fred Stephen Safo, who nursed the vision for the creation of a media unit in the church; Prophet Martinson Kwadwo Yeboah, who strengthened and deepened the foundations of the media unit; Apostle Dr. Michael Ntumy under whose tenure, the Church started broadcasting her content on major TV stations in Ghana and Apostle Prof. Opoku Onyinah, under whose leadership, PENT TV was set up in October 2014 and launched in February 2015.
He also thanked the Pent Media Board Chairman and the board members who worked tirelessly over the years to enable the church to build a solid media front for the Church.
With the migration unto the DTT platform, the General Manager, Pastor Kwasi Asante Annor, said new programmes such as French content have been introduced while the existing ones have been enhanced.
Established some seven years ago (February 2015), PENT TV has become a household name in the Ghanaian media landscape providing unparalleled Christian content to its teeming viewers.
PENT TV is a limited liability company duly incorporated in Ghana under the Companies Act of 1963, Act 179 with the primary purpose of carrying out the business of digital television broadcasting.
PENTECOST NEWS.