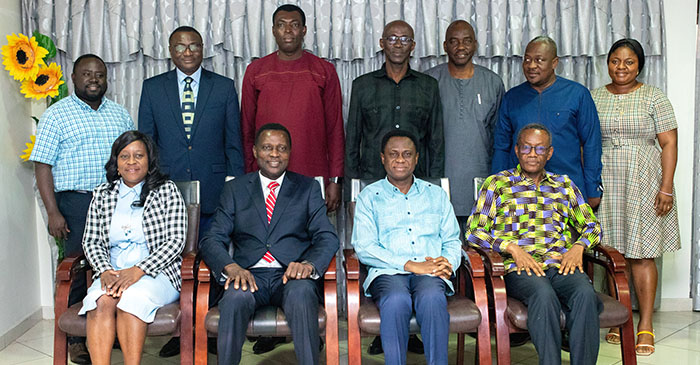 The Minister for Education, Honourable Dr. Yaw Osei Adutwum, today (August 23, 2022), paid a courtesy call on the Chairman of The Church of Pentecost, Apostle Eric Nyamekye, at the Church's General Headquarters, in Accra.
According to the Minister of Education, the visit marks the beginning of his "listening tour" to dialogue with religious leaders in Ghana to find out their assessment of the various policies introduced by his ministry and how they could be improved to better serve the needs of the citizenry.
"Churches have mission schools that provide support and ensure the success of the educational system in Ghana. Many things are happening in the educational space, such as the Science, Technology, Engineering and Mathematics (STEM) High Schools built across the country, which I have the wonderful opportunity of briefing the Church about," Hon. Dr. Adutwum stated.
He further stated that the Education Ministry is operationalising a major transformation in the sector to make it fit for its purpose, and in so doing, transform the fortunes of the country.
Hon. Adutwum added that his engagement with religious leaders also provides him with a unique opportunity to court the support of religious leaders, who are also key stakeholders in the sector, in his quest to transform the educational system.
He, therefore, thanked the leadership of the Church for the warm reception accorded him and also lauded the Church for its immense contribution to the transformation of Ghana and the world at large.
The Chairman, who described the initiative as "a step in the right direction," commended the minister for acknowledging religious bodies as major key stakeholders in the educational sector, and making the necessary effort to engage with them.
He explained that human beings, as managers of the earth, need to be educated to understand and effectively and efficiently manage their environment.
He also praised him for the good work he is doing to champion education, which according to him, is very key to the development of any country.
"You are a good ambassador of The Church of Pentecost and we, as a Church, are very proud of you for attaining the level of a sector minister in the country," he said.
He further encouraged the Minister to continue to introduce great and innovative ideas to transform the sector and to take advantage of the media to share with the citizenry the work he is doing in the educational space.
Present were Apostle Alexander Nana Yaw Kumi-Larbi (General Secretary), Apostle Lawrence Otu-Nyarko (Finance & Administrative Director, COP), Apostle Vincent Anane-Denteh (Men's Ministry Director), Pastor Prof. William Otoo Ellis (Children's Ministry Director), Elder Richard Amaning (Pentecost Social Services, PENTSOS Director), and Mrs. Eunice Anima Pumpuni, (Institutional Development and Support Manager, PENTSOS).
PENTECOST NEWS.