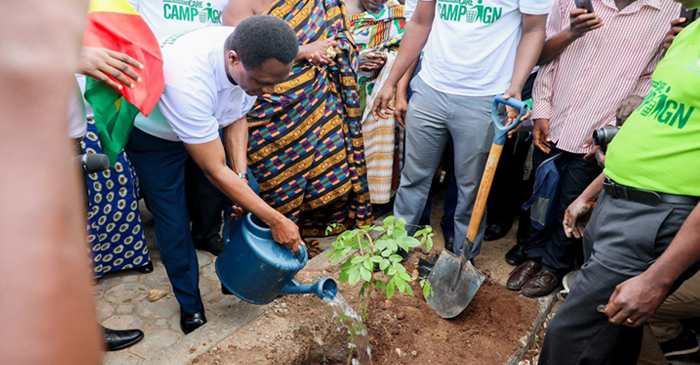 Notwithstanding the core mandate of the Church of God, The Church of Pentecost believes that the owner of the earth is God, the Heavenly Father, and, therefore, they must preserve their Father's property.
Amongst the numerous interventions put in place by the leadership of the Church to preserve the environment is the "Environmental Care Campaign" which emanated from the Church's strategic vision, dubbed "Vision 2023." This aspect of the vision primarily focuses on community clean-ups, education on the need to keep our environments clean, promulgation and implementation of bye-laws, tree planting and plastic waste management.
The Church of Pentecost, a holistic church that so much espouses the principles and values of the kingdom of God, in June 2022, collaborated with the Forestry Commission to plant 898,630 seedlings across the length and breadth of Ghana.
This was coordinated by the National Discipleship and Leadership Development Committee (NDLDC) of the Church, headed by Apostle Samuel Gakpetor (Agormanya Area Head).
Through this exercise, various tree species such as Emere, Mahogany, Framo, Seddella, Otee, Acacia, Mangoes, Oranges, Ornamentals, and Hedges were planted at the area, district, and local levels of the church.
Further collaboration with Forestry Commission resulted in the Agormanya Area of the church planting 9704 Mahogany trees in Odumase Forest. Akim Oda Area also planted 244, 479 trees in Apoli, Asuboa, Achiase Agric, Akenkensu, Nsokote, Banka, Adwafo, and Nkwateng.
Takoradi, Bolga, Tumu and Suame Areas of the church also plant trees in the forest reserves in Sekyere Krobo Subiri, Navorongo, Naagodi, Sandama, Owabi, and Barekesse.
It is, therefore, refreshing to note that 849, 103 of the tree seedlings planted in June 2022 (representing 91.95%) survived and are doing well and are at various stages of growth.
It is also worth mentioning that the leadership of the Church spearheaded an exercise that saw 651,593trees planted across the nation. Out of the total seedlings planted, 532, 408 (representing 81.71%)survived and are doing very well.
We give glory to God for what He continues to do in the world through The Church of Pentecost.
Written by Pastor Pasteeco Arthur.