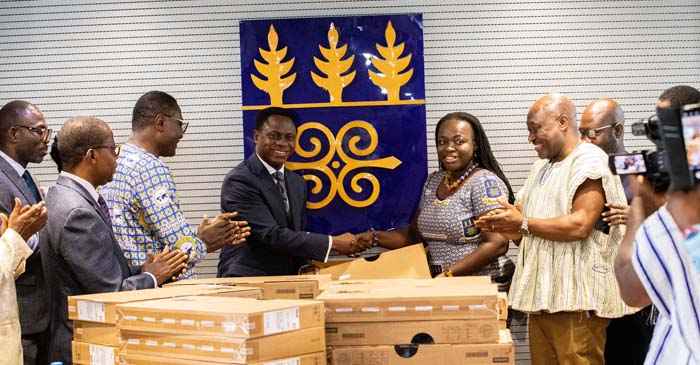 The Church of Pentecost has set the pace by being the first institution to donate 30 pieces of laptops towards the University of Ghana's 'One Student, One Laptop Initiative' at a short ceremony held at the Legon Campus, yesterday.
As part of its strategic vision to achieve world-class status, Professor Nana Aba Appiah Amfo, Vice-Chancellor of the University of Ghana (UG) is leading the university towards 'creating a culture that promotes research, teaching and learning, administrative processes and extension activities driven by technology and anchored in humanism' for the benefit of all stakeholders.
In this regard, various initiatives are underway to enhance stakeholder experience through digitalisation.
The Vice-Chancellor in relation to this identified the following three-pronged technology-driven initiatives to enhance the experience of students, faculty, and staff: Classroom Modernisation, One Student One Laptop (1S1L), and Hot-Spot Comfort Zones.
Briefing the church about the project, Professor Gordon Awandare, Chairman of the Implementation Committee, who doubles as the Pro Vice-Chancellor, Academic and Student Affairs, UG, indicated that the school seeks strategic partnerships from individuals and corporate bodies.
"We are reaching out to corporate bodies interested in participating in this, for the purpose of advertisement. Companies can adopt a classroom and modernize it," the Pro VC said.
Professor Amfo lauded the church for the kind gesture and assured that the laptops would be fairly distributed to needy students who merit it.
The Chairman of The Church of Pentecost, Apostle Eric Nyamekye, pledged the continuous support of the church towards the project as a move to assist students in their academic laurels.
The Chairman also used the opportunity to congratulate the Vice-Chancellor on her appointment as the 1st Female Vice-Chancellor for the University of Ghana. He further encouraged her to trust in God in the discharge of her duties to achieve greater things in office.
Apostle Nyamekye then introduced the appointed Resident Campus Minister for the university, Pastor Kwadwo and Mrs. Eunice Obeng, to the management and urged the leadership of the university to support his pastoral activities on campus.
With dwindling governmental support due to competing national needs, Management of the University of Ghana seeks the support of benevolent donors from within and outside the University to finance the initiatives.
PENTECOST NEWS