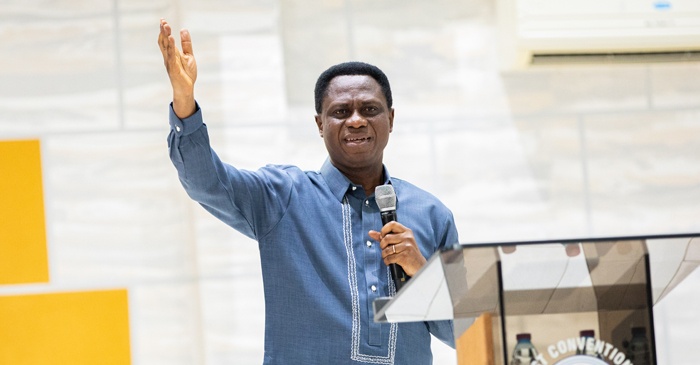 The Chairman of The Church of Pentecost, Apostle Eric Nyamekye, has charged ministers of the church missions field to declare to the world that Jesus Christ has atoned for the sins of the world.
Apostle Nyamekye made this charge at the Pentecost Convention Centre, Gomoa-Fetteh, during the just-ended orientation for newly-called missionaries of the church.
Addressing the missionaries, the Chairman of the church said that Jesus, who is the atoning sacrifice, did not only come to earth to die for believers, but He died for the sins of the whole world.
"When you reject Him (Jesus), you reject the appeasing sacrifice that saves," he said, stressing that the sceptre of the authority of the Kingdom of God is Jesus.
According to the Chairman, Jesus is the only one who takes away the wrath of God, saying, "The righteous run to Him always when they are faced with difficulties."
"When you carry the sceptre, you must be a righteous person. This is the foundation of Christ," the Chairman stated.
He added: "Fasting and prayers do not activate the name of Jesus; it does not make the name more powerful, but it releases our spirit man and strengthens our faith to be able to act upon this name Jesus."
The Chairman charged the missionaries not to worry about where they have been sent to since Jesus is the king over all nations.
Establishing the power and authority in the name of Jesus, Apostle Nyamekye iterated that His resurrection from the dead was God's proof that He is the appointed one, hence the Son of God.
He then charged them to go into the nations and preach the gospel in love since the gospel is the essence of missions.
PENTECOST NEWS.