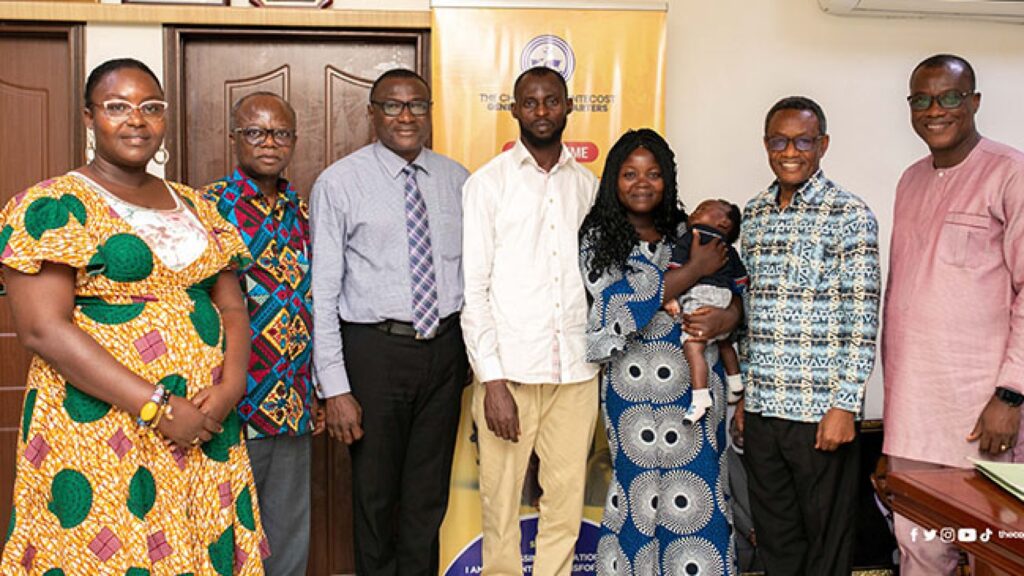 The Leadership of The Church of Pentecost has met with Kwesi Ackon, the honest taxi driver and member of the church, who returned the huge money he found in his car to its owner.
The General Secretary of the church, Apostle Alexander Nana Yaw Kumi-Larbi, on behalf of the Chairman of the church, Apostle Eric Nyamekye, on Thursday, May 12, 2022, met Kwesi Ackon, the man of the moment, together with his wife, Francisca and his social media influencer, Roberta Maanaa Quaye aka Empress Baako Pe, a midwife by profession who has become Kwesi's manager.
Present at the meeting were the Finance and Administration Director of The Church of Pentecost, Apostle Lawrence Otu-Nyarko; the La Area Head of the church, Apostle John Osei Amaniampong, and Pastor Bright Kojo Addae, the Kokomlemle District Pastor of the church, where Kwesi Ackon and his wife fellowship.
The General Secretary congratulated the taxi driver for living the Christian virtues of honesty and integrity. He encouraged him to maintain his integrity. He was so glad that there were people of integrity in society who continue to live Christlike life in the midst of a corrupt world.
Apostle Kumi-Larbi said that the church will soon announce some good package for the taxi driver as a way of motivating him to do more and also encourage others to do same.
"What you have done is not just for The Church of Pentecost but for the entire Christiandom. We are gratified that you have lived by the Word of God," the General Secretary stated.
The La Area Head of the Church, Apostle John Osei Amaniampong, on behalf of the Area, donated GHS 5,000.00 to the taxi driver, while the Kokomlemle District of the church also added GHS 1,000.00 to it.
The church's ultimate reward for Kwesi Ackon will be announced by the Chairman of the church, Apostle Eric Nyamekye, in the coming days.
The news of Kwesi Ackon, a taxi driver, went viral early this week after he returned an amount of GHS 8,400.00 he found at the back of his car to the owner. He picked the trader, an old fishmonger, from the Mallam Atta Market in Accra to her residence at Teshie on Easter Saturday.
The old woman who had no hope of retrieving the said money wept profusely and invoked the blessings of God upon Kwesi Ackon when he voluntarily traced her at her residence on Easter Sunday to return the money to her. This act by the taxi driver which was captured on video went viral courtesy of Empress One and subsequently caught the attention of the Vice President of the Republic, His Excellency Dr. Mahamudu Bawumia, who donated GHS20,000.00 to him. Several other persons who were touched by the gesture by the taxi driver have since donated several amounts to him.
PENTECOST NEWS.