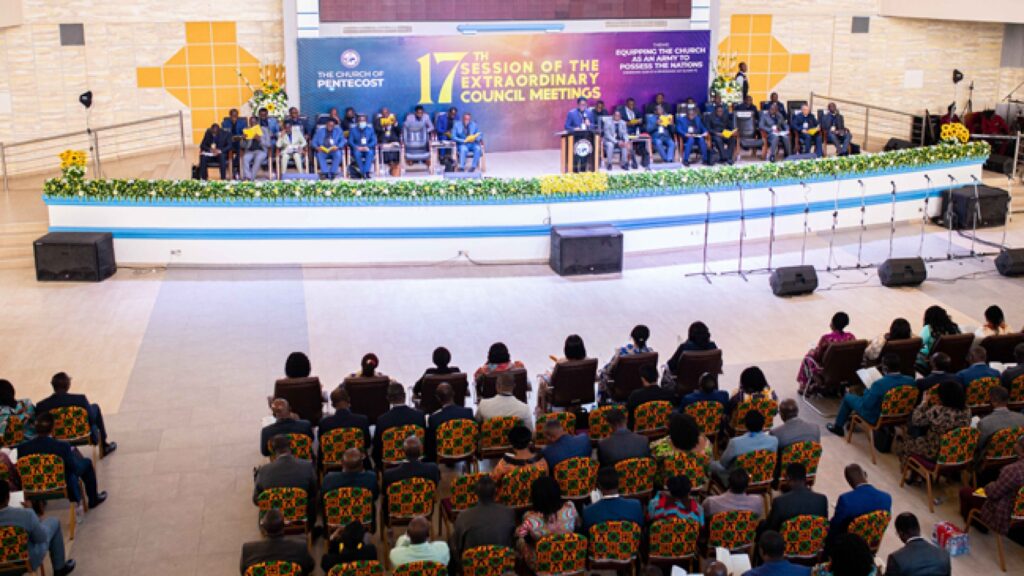 There has been a mass transfer of ministers of The Church of Pentecost to various parts of Ghana, totalling 459.
Apostle Eric Nyamekye, Chairman of The Church of Pentecost worldwide, announced this at the closing ceremony of the 17th Extraordinary Council Meetings on Friday, May 6, 2022, at the Pentecost Convention Centre (PCC), Gomoa Fetteh, near Kasoa in the Central Region of Ghana.
He stated: "Now my colleague transferred Ministers, I want to reiterate the need to appreciate the fact that, where we are posted to at any given point time is part of God's divine purpose for our lives. May we, therefore, see our transfers as God sees it, as we joyfully walk into unfamiliar territories with the sole aim to press on to take hold of that for which Christ Jesus has taken hold of us."
The Chairman in his address noted that as part of the decisions taken by the Executive Council of the church, 53 new districts and three new administrative areas (Atonsu, Duayaw Nkwanta, and Old Tafo Areas) have been created. Some ministers also received higher callings such as apostles, prophets, evangelists, missionaries, and area heads.
He also announced that 51 ministers of the church will proceed on retirement from the full-time ministry, come September 2022, while two new committees (Research & Development and Prisons Ministry Committee) have been created to enhance the Vision 2023 agenda.
The Chairman charged ministers to go all out to impact their world with the power of the gospel to advance the Possessing the Nations agenda.
"Brothers and sisters, as we continue to go out to win many into the Kingdom, we are encouraged to intensify our equipping mandate at all levels of the Church in raising an army who will project the values and principles of the Kingdom in all spheres of endeavour," he charged them.
He continued: "The Lord refreshed us in our meetings through His Word, prayer and prophecies, and we have enjoyed His presence. We are confident that through our deliberations and the many decisions made, we have been challenged to go and continue the business of influencing the nations for Christ as we help mobilise a great army equipped to do exploits for the Lord."
This year's Extraordinary Council Meetings officially began on Wednesday, May 4, 2022, on the theme, "Equipping the Church As An Army To Possess The Nations" (Hebrews 13:20-21; Ephesians 4:11-12; 6:10-11).
The meeting was attended by over 500 Councillors, with 144 missionaries and nine (9) observers drawn from the 135 nations in which the church has a presence.
The College of Apostles and Prophets made up of Area Heads, National Heads, Missionaries, and Directors, earlier had a 2-day prayer and business session from Monday, 2nd to Tuesday, 3rd May 2022.
PENTECOST NEWS.