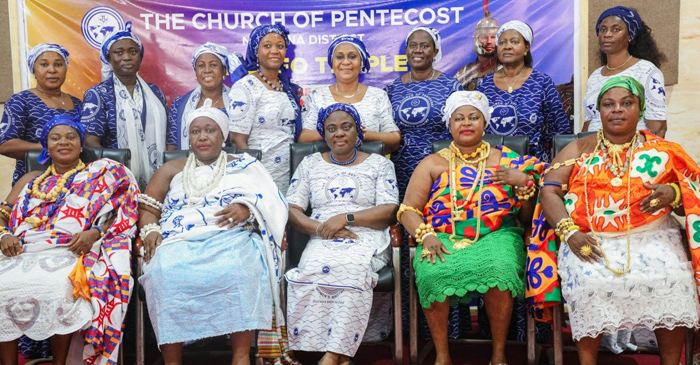 The wife of the Chairman of The Church of Pentecost, Mrs. Mary Nyamekye, on Wednesday, March 16 2022, paid a working visit to the Teshie-Nungua Area Women's Ministry.
The meeting which was held at F. S. Safo Memorial Temple at Nshorna, Nungua, was attended by women from the 26 districts of the Area. The meeting was also part of the National Women's Prayer and Fasting Chain programme under the theme, "Equipping women for everything good to do the will of God," taken from Hebrews 13:20-21.
Reading from Ephesians 6:10-14; Mrs. Mary Nyamekye admonished women to live righteous and devout lives which encompasses putting on the full armour of God in these perilous times.
She also urged the women to raise and train godly children to be responsible adults as well as live at peace with their neighbours, and help maintain family altars or devotions.
"Set godly examples for your children at home, at your workplace and wherever you find yourselves." she admonished.
According to Mrs. Nyamekye, God has endowed women with so many weapons such as the Sword of the Spirit; which is the word of God, and prayers which they can use positively to affect their lives and that of their families, hence they should not be oblivious of the schemes and works of the devil which can distract them.
"Christianity is not an easy journey. However, I pray that we will all be well dressed from the top of our heads to the soles of our feet so that the devil will not have a foothold in any aspects of our lives," she said, adding, "the challenges we face should not make us despair in life."
Mrs. Mary Nyamekye also encouraged single ladies to hold on to the word of God without wavering and to offer their bodies as living sacrifices unto the Lord. She further encouraged them to take their schooling and studies seriously so they can influence society positively.
The Chairman's wife was of the view that women need to be agents of spreading or evangelizing the word of God at their workplaces, in their neighbourhoods, and also teach it to their children and family.
The Women's' Director of The Church of Pentecost, Deaconess Philomina Mireku, led prayers for the entire church and its leadership as well as the leaders and members of the Women's Ministry at all levels. Prayers were also said for families and the nation.
The meeting was attended by the Teshie-Nungua Area Head, Apostle Wilberforce Nkrumah Agyeman, and his wife, Mrs. Grace Nkrumah Agyeman, ministers in the Area, Deaconess Vivian Amfo (Deputy Women's Ministry Director), Deaconess Cynthia Siaw Agyepong (immediate past Teshie-Nungua Area Women's Leader), and some queen mothers in the Area.
The Area Women's Ministry Leader, Deaconess Sophia Naana Arthur, was grateful to the Chairman's wife and the Women's Ministry national leadership for their visit.
Report by Yaa Asantewaah Adu Boahene.