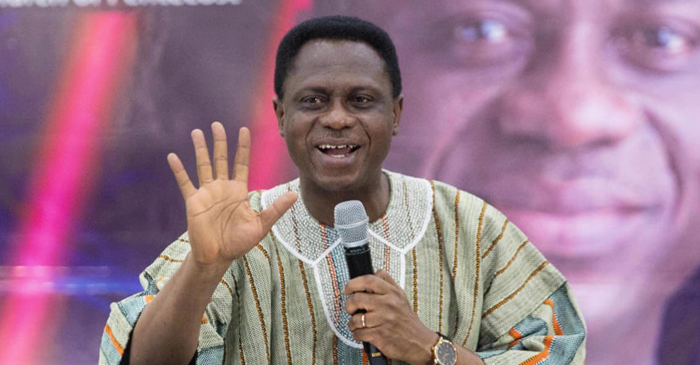 Apostle Eric Nyamekye, Chairman of The Church of Pentecost, has urged Christians to serve God in truth and in holiness outside the church.
He stated that the Christian's understanding of the church is misunderstood, even though churches are scattered all over the nation.
"People do not understand the purpose of the church. It is the church that will be used by God to achieve the possessing the nation's agenda," he said.
Speaking to congregants of the Pentecost International Worship Centre (PIWC) – Bolgatanga, on Sunday, February 27, 2022, on the 2022 theme: "Equipping the Church as an Army To Possess the Nations," Apostle Nyamekye said that the purpose of the believer's redemption is to worship God. He used Hebrews 13:20-21; Ephesians 4:11-12; 6:10-12 as scripture references.
He defined worship as "to bow" and "to serve," indicating that Christians should not only fulfill the former and leave the latter. Rather, they should serve God outside the church after bowing to Him in the church.
"Worship is not just to bow and adore God, also, it is to serve Him," he stated.
According to the Chairman, the body is supposed to be the sacrifice that Christians give to God (Romans 12:1-2). Therefore, whatever they do with their bodies is worship to God.
"Therefore, I urge you, brothers and sisters, in view of God's mercy to offer you bodies as a living sacrifice, pleasing to His service," he stated and added: "The real worship is what you do with your body."
He, however, noted that when God is not pleased with one, He will never be pleased with what is in his/her hands. He advised Christians to be mindful of how the body is used daily in the church and outside of it.
He further admonished Christians to eschew separating their working lives from that of the church because whatever they do is a form of worship to God, and must be done to the glorification of God.
"If our lives become our testimonies, that is purely based on the righteousness of Christ, it will certainly make our evangelism easier. Let the world see the Bible in you," he urged.
He further revealed that Christians, being God's ambassadors, must allow themselves to be used as agents of God because they have been equipped as a church to possess the nations.
"We are equipping ourselves as an army so that we will be able to withstand the enemy with the armour of God," he emphasized.
The Chairman of the church ended the Bolgatanga and Bawku Areas 2022 Officers' Retreat (Apostolisation) in the Upper East Region on Sunday.
Throughout the week he addressed officers and members of the church in the Bolga, Navrongo, Siniensi zones (Bolgatanga Area), and the Zebilla Zone (Bawku Area) about the theme of the church for the year.
PENTECOST NEWS