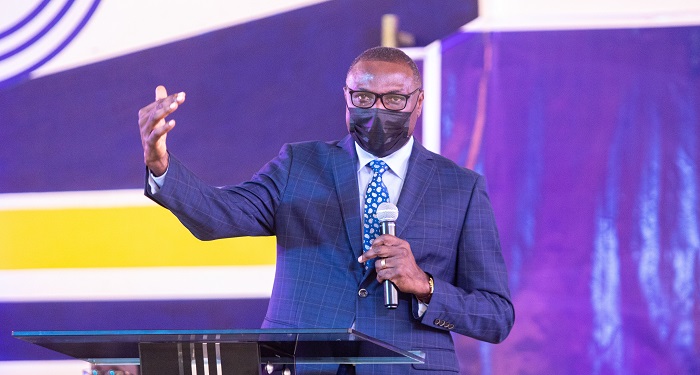 Apostle Lawrence Otu-Nyarko, the Finance and Administration Director (FAD) at The Church of Pentecost (CoP) Headquarters, has disclosed that, one of the factors that could enable church leaders to excel in their ministry is their ability to withstand pressure.
He stated that pressures from followers (members) and other co-workers could cause leaders to make poor decisions in times of crisis, stressing that, the leader must be able to maintain a "cool head" and calm composure at all times.
Apostle Otu-Nyarko said this when he preached this morning on the topic: "Equipping the Saints to Watch Over Their Ministry and Complete It" at the Ministers and Wives' session of the ongoing 2022 Tarkwa Area Apostolisation.
Using scripture references such as Ephesians 6:11-12, Hebrews 13:20-21, and Colossians 4:17, he stated that, in keeping with this year's overarching theme, church leaders have a mandate to equip members for greater impact.
He defined equipping as "committing resources to an institution or a person in order for that person or institution to execute an assignment, duty, task, or responsibility."
Apostle Otu- Nyarko stated that Christ has appointed ministers for the equipping of the saints, and thus they must carry out this mandate effectively until the end of their calling.
He stated that the equipping process necessitates girth because it will take more grace to build church members up to stand in the Lord and withstand the schemes of the evil one.
He did, however, assure them that if they were able to complete this mandate, they would receive a large heavenly reward for their efforts.
Apostle Otu- Nyarko mentioned arrogance, discouragement, over-ambition, covetousness, weariness, the Love for the Flesh, success pressure, and distractions as other factors that could prevent church leaders from "completing their ministry."
The Finance and Administrator Director of The Church of Pentecost advised ministers and wives to remember that it is the Lord who has called them (1 Thessalonians 5:24) and that He has a hand in every ministerial assignment they receive in order to keep and discharge their ministry to the end.
He also advised them to fix their gaze solely on Jesus (Hebrews 12:2), to be content and relaxed, to praise God in all circumstances (2 Peter 1:3), and to stand firm in the Lord (Ephesians 6:10-11).
The Ministers and Wives' session was held ahead of the official opening of this year's Officers' Retreat also referred to as Apostolisation.
The Officers' Retreat (Apostolisation) is an annual capacity-building and training program established by The Church of Pentecost to equip and empower church leaders to carry out their responsibilities effectively.
This year's event is under the theme: "Equipping the Church as an Army to Possess the Nations" (Hebrews 13:20-21, Ephesians 4:11-12, Ephesians 6:10-11)," which is the overarching theme of the Church for 2022.
PENTECOST NEWS.