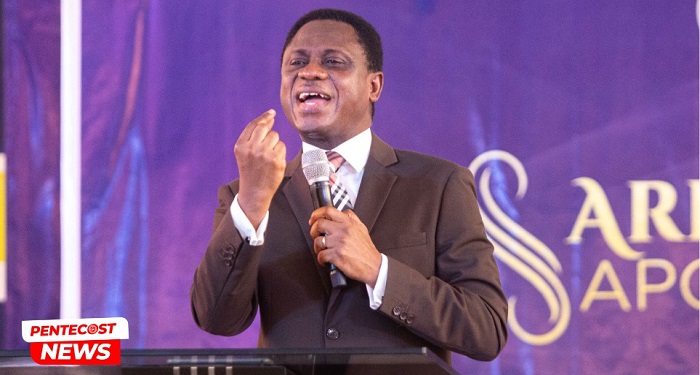 The Chairman of The Church of Pentecost (CoP), Apostle Eric Nyamekye, has advised ministers of the Church to be Kingdom-minded and to look beyond the CoP fraternity in order to influence their brethren in other denominations.
This, he claims, will ensure that they "possess the nations" by instilling the values and principles of God's kingdom in every sphere of society.
Apostle Nyamekye said this during the opening session of this year's Officers' Retreat at the Tarkwa Worship Centre today.
"If we truly desire to possess the nations, we must strengthen our fellowship as a Church, look beyond our horizons, and strive to connect with and influence our brethren in other denominations," he said.
In his sermon, he stated that the 2022 theme, like the Church's previous three themes, aims to provide members with a better understanding of the Church as a people of God's kingdom in the 'possessing the nations' agenda. He claimed that Jesus introduced the kingdom as a Seed in the Parable of the Mustard Seed (Matthew 13:31-32).
Using Genesis 3:16, Genesis 13:14ff, Galatians 3:15-19, John 12:24, and 1 Corinthians 2:8, the Chairman established further that Jesus Christ is the eternal Seed that was "ignorantly" sown by the devil but has now grown into a vine tree with many branches that continues to bear much fruit.
According to him, the various church denominations are thus branches connected to Jesus, the true vine. The Chairman, on the other hand, explained that no single church organization can cater to everyone's tastes and preferences, and that every denomination, in any generation, should decide what kind of church it wants to build, develop, and maintain.
"We should not make comparisons between The Church of Pentecost and other churches. Rather, let us develop what we have, make it a brand, and stick to it, because no church denomination, no matter what you do, can meet the tastes and preferences of all people," he stated.
In light of this, Apostle Nyamekye added that ministers of a particular church denomination should not regard themselves as superior to others, but rather as one body born of the same spirit.
He urged ministers to regard their colleagues in the CoP and other denominations as brothers, coworkers, fellow soldiers, and fellow prisoners (Philippians 2:25. Colossians 4:10). The Chairman urged ministers to love one another and work together to keep the body of Christ united (Ephesians 4:1-7).
"We need to collaborate and win together. We must support and protect one another," he charged.
PENTECOST NEWS