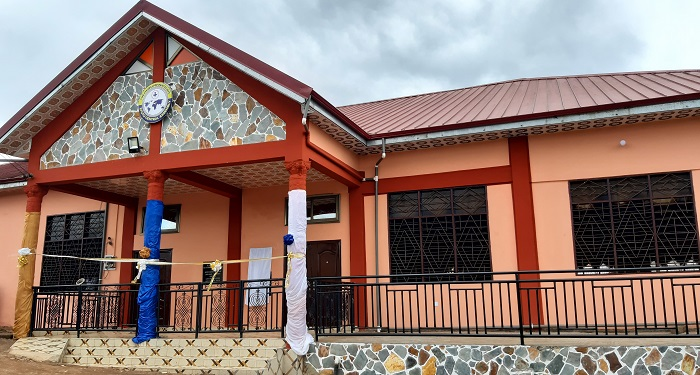 The Cape Coast Area Head and Executive Council Member of The Church of Pentecost, Apostle Samuel Yaw Antwi, has dedicated the church building of the Efutu Central Assembly in the Efutu District of the church.
Speaking on the topic: "A Church on Fire" with references from Ephesians 5:25-27 and Leviticus 6:8-13, Pastor Gideon Osei-Appau of PIWC-Cape Coast stated that the church of the Lord must be a 'church on fire' (spiritually potent) and not dormant.
According to him, the Holy Spirit is the key factor in building a 'church on fire,' and since the Holy Spirit dwells in believers, they must always be on fire for Christ in order to possess the nations.
He called on Christians to take their devotions seriously so as to keep the fire burning. He also charged them to deal with or forgo anything in their lives that could quench the fire the Lord has deposited in them.
Pastor Osei-Appau further noted that a church on fire is a church that loves holiness, lives a life of sacrifice, and also evangelises. "Let us keep the fire burning, so that we would show forth the Glory of God," he said.
Speaking at the ceremony, Apostle Antwi praised the minister in charge of the district, Pastor Kwabena Opoku, and the entire members for the work done.
He further called on all present to get involved in the ongoing National Population and Housing Census by ensuring that each person in their household is counted.
In her remarks, the queen mother of the Efutu Community, Nana Bahemaa Amba Eyaaba I, called on all present to live their lives as Christ did by being kind, compassionate and loving to one another.
She commended the church for its significant contributions to the socio-economic development of the nation through the various developmental projects it has undertaken. She appealed to the church to come to the aid of the Efutu community by constructing a Kindergarten or a basic school facility for the community.
As part of the event, the Area Head ordained some members from the Efutu and Frami districts as elders, deacons, and deaconess of the church.
The dedication ceremony was attended by the pastorate in the Cape Coast Area, the Efutu District Executive Committee members, traditional leaders, the assembly member, and members of the Efutu District.
The Efutu Central Assembly was established in 1984 with 15 members after a convention held by Pastor J.K. Nsarkoh at Efutu in the Central Region.