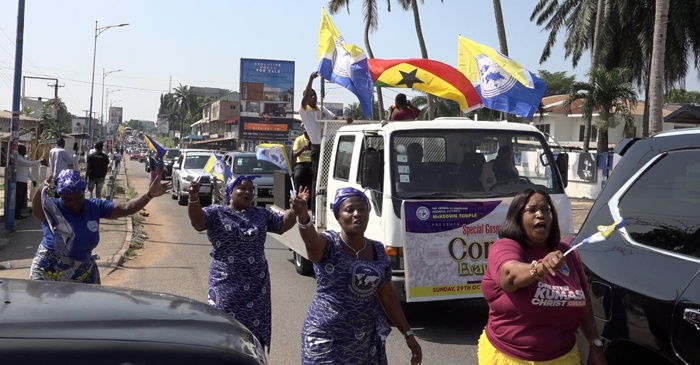 The Asokwa District of The Church of Pentecost on Sunday, October 29, 2023, embarked on a convoy evangelism in the principal streets of Asokwa in Kumasi to observe Gospel Sunday.
The event, according to the District Minister, Pastor Joseph Asamoah Boakye, was to propagate the Gospel message of Christ in a restructured approach to save the perishing. He explained that it was necessary to adopt an innovative approach to draw the attention of many and connect them with the word of God for salvation.
Pastor Asamoah Boakye stressed that the event is key in fulfilling the Church's Vision 2023 agenda of "Possessing the Nations."
More than 30 vehicles moved together in the principal streets of Asokwa on the Gospel Sunday with singing as a section of members holding placards, with the evangelism team engaging the residents.
The atmosphere created by the convoy brought a unique scene of attraction for pedestrians and residents to hear the word of God as a few were led to the saving knowledge of Jesus Christ.
The Presiding Elder of Asokwa Mckeown Temple, Elder Isaac Addai Boateng, told PENTECOST NEWS that the purpose of the exercise was achieved as number of people expressed their willingness to surrender their lives to Jesus, with four persons brought to church to make decision.
He spoke on the need to find different evangelism strategies to accomplish the Great Commission mandate in such a time.
Mrs Abishag Asamoah Boakye, the wife of the District Minister and National Executive Member of the Women's Ministry, disclosed that the convoy evangelism is another defined approach to preach Jesus to the world. She praised the Church leadership for the initiative and was very optimistic that it would go a long way to bring many people to the saving knowledge of Christ Jesus.
Report by Emmanuel Nana Nsiah & Dennis Owusu