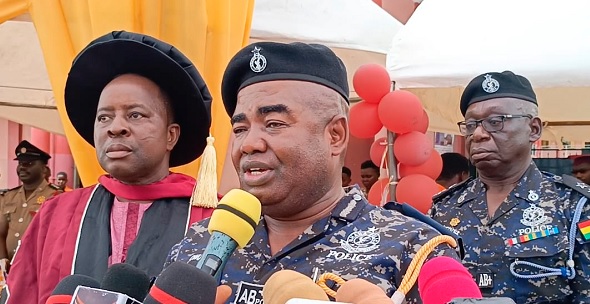 The Deputy Central East Regional Police Commander, ACP Joseph Owusu-Bempah, has called on parents to endeavour to control what their children watch on both television and mobile phones.
That, he said, was to ensure that they did not watch things that could have a negative impact on their development.
He said a lot of children tried to copy and practice what they watched on TV and that recently for instance, a nine-year old boy jumped from a moving school bus and died instantly because he might have tried to be a Rambo or something he had watched.
Guidance
"That is why on TV we have Parental Control/Parental Guidance.
Don't let them watch things on their own.
Tell them whatever they are watching is not real life; it is make-believe and that they should not attempt to be Spider Man or to be super human, no," he emphasised.
ACP Owusu-Bempah said this at a joint graduation ceremony of the Young Executive School (YES) and Onua Francis International School at Kasoa and Gomoa Buduburam in the Central Region.
He also entreated parents not to leave their children to cross the road alone to school in order to reduce the rate at which children were knocked down by vehicles.
"The Police Service under the leadership of the Inspector General of Police should ensure that there is safety on our roads," he said.
Stakeholders
For his part, the Chief Executive Officer of YES, Noble Francis Essel-Okyeahene, called on stakeholders to be actively involved in education delivery in the country so as to produce future leaders that would properly steer the affairs of the country.
He said giving children the right type of education was critical to their development and thus the need for stakeholders to support school authorities to provide quality education to all children, irrespective of where they came from.
"We should always focus on quality delivery for better results," he said and called for a strong educational foundation for children.
Mr Essel-Okyeahene urged parents to also watch the kind of friends their children go out with in order to prevent them from being corrupted by those with questionable characters.
Source: Graphiconline.com