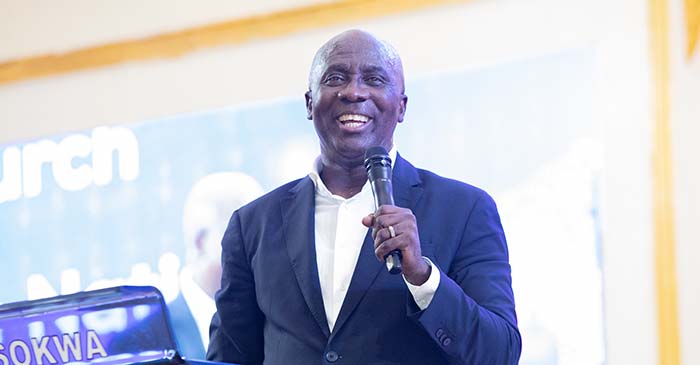 Elder Dr. Samuel Amo Tobbin of the Dr. Thomas Wyatt Assembly of The Church Of Pentecost has asserted that prayer is the indispensable tool for restoring God's blessings on Christians.
He made this assertion today at the Pentecost International Worship Centre, Asokwa during the morning session of Day 2 of the "Greater Kumasi For Christ" Crusade.
With Genesis 1:27-28 as a biblical foundation, Elder Tobbin illuminated the omnipresent blessings bestowed upon humanity by God.
In his sermon, Elder Tobbin emphasised that the absence of visible wonders does not equate to the absence of God's blessings.
Drawing a parallel to the intangible yet undeniable components of human existence—the spirit and soul—he revealed that blessings from God are steadfast companions throughout life's journey.
"Blessings from God are noy always outwardly manifest, but they journey with us, unseen yet powerful," he affirmed.
Drawing insights from Romans 3:23 and John 11:41-43, Elder Tobbin, who is also the Chairman of the Tobbinco Group of Companies, delved into the spiritual implications of sin.
He stated that when humanity succumbed to sin, the once-flourishing blessings were withdrawn. However, through embracing Christ, one is redeemed from curses and liberated from the shackles of sin.
"Embracing Christ ushers in a transformative freedom, liberating you from the chains of curses," he charged.
"As a Christian, accepting Jesus Christ into your life propels you into a realm of freedom," Elder Tobbin noted.
Reflecting on John 11:41-42, Elder Tobbin marveled at Jesus' power to summon Lazarus from the spirit realm into the physical.
"Restoration is not confined to mere retrieval; it involves breathing life into the lifeless. Prayer is the conduit to revitalize the dormant," he expounded.
Elder Tobbin stressed that prayer transcends mere request—it is a proclamation.
Drawing from the biblical truth that life and death reside in the power of the tongue, he encouraged believers to speak life into their circumstances.
"Prayer becomes an indispensable tool in the journey of restoring blessings," he affirmed.