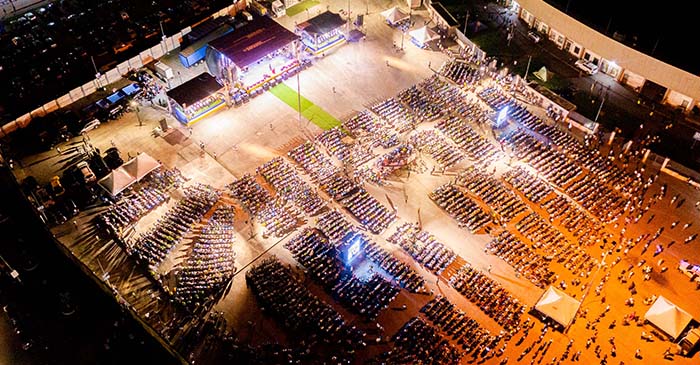 The eagerly-anticipated event of the Evangelism Ministry of The Church of Pentecost, dubbed "Greater Kumasi For Christ" Crusade, kick-started yesterday, recording 133 souls to the glory of God.
The four-day event, which is being held at the Heroes Park, situated near the Baba Yara Sports Stadium in Kumasi, drew in a multitude of participants from far and near, within the Ashanti Region of Ghana.
Apostle Alexander Nana Yaw Kumi-Larbi, the General Secretary of The Church Of Pentecost, opened the crusade, urging the gathering to anticipate the transformative power of God to manifest in their lives.
"The very presence of the Lord, who elevated us beyond life's adversities, will bless Heroes Park. This week signifies a time of extraordinary restoration," he said.
Preaching at the event, the Evangelism Ministry Director of the Church, Apostle Amos Jimmy Markin, said that God's arms are open wide, ready to receive and restore anyone who comes to Him in humility.
He has, therefore, called on all individuals, particularly unbelievers, to make a resolute decision to turn to Christ.
An altar call after the sermon saw 133 persons surrendering their lives to Christ, while 16 others rededicated their lives to Christ. Also, 72 of the souls won underwent water baptism on the same day.
Among those present at the event were Apostle Peter Dzamekey (Asokwa Area Head), Pastor Kwasi Asante Annor (General Manager, Pent TV), Elder Dr. Bismark Amoah (Bohye Prayer Centre), and Elder Professor Seth Yaw Peasah (El Bethel Prayer Centre, Ho).
Also in attendance were a cross-section of the pastorate in the Asokwa Area and nearby Areas, officers of the church, members and the general public.
The crusade is scheduled to culminate on Saturday, August 26, 2023, with a medical screening exercise.
PENTECOST NEWS