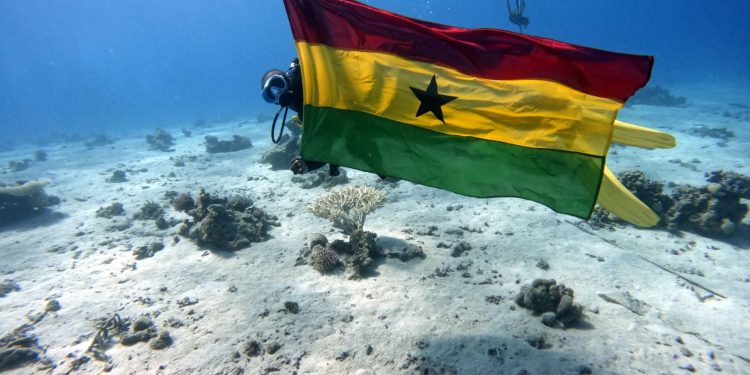 In the vibrant city of Eilat, situated on the picturesque shores of the Red Sea, a remarkable Ghanaian migrant King David Nyamedor has defied the odds and risen to become an internationally recognized diver.
His journey from humble beginnings to achieving the prestigious Divemaster certification at the Aqua Sport Diving Club is nothing short of extraordinary.
Today, King David's story not only reflects his personal triumph but also serves as an inspiring testament to the indomitable human spirit.
A Journey of Determination and Perseverance:
King David Nyamedor's voyage to becoming a diver extraordinaire was marked by unusual circumstances. Hailing from Ghana, he made his way to Israel and settled in Eilat. His initial struggles as a migrant did not deter him from pursuing his dreams. Despite facing language barriers and cultural differences, King David's unwavering determination fueled his ambition to conquer the depths of the Red Sea.
Ascending the Ranks:


On Friday, July 7th, 2023, King David's dedication and hard work paid off as he successfully graduated from the rigorous Divemaster course at Aqua Sport Diving Club, Eilat. This achievement propelled him to become a full-fledged member of the Professional Association of Diving Instructors (PADI), a prestigious global organization that sets the standard for diving education and safety.
Mastering the Depths:


The intensive three-week certification course was a testament to King David's commitment and passion for diving. He honed his skills in various specialized areas, including search and recovery diving, deep diving, rescue diving, and nitrox diving. But King David's aspiration extended beyond personal triumph; he aimed to showcase his faith and national pride under the sea.
Uniting Faith and Nation:


With the vision of promoting the Church and displaying national unity, King David embarked on a unique endeavour. In a symbolic gesture, he planned to exhibit the Church and the national flags beneath the waves of the Red Sea, reminding all that even in the depths, Jesus reigns supreme. This demonstration of faith and patriotism garnered support from influential figures.
Distinguished Support and Recognition:
During the momentous graduation ceremony, King David was privileged to have the presence of the national head of the church of Pentecost- Israel, Apostle Seth Asante. The Ghana Ambassador to Israel, Her Excellency Mrs. Lydia Amartey, and the head of consular and welfare, Mrs. Patience Kokui Gameli-Kwame, also offered their assistance and resources. Their presence and support highlighted the significance of King David's achievement and his dedication to representing his church and country.
A Source of Inspiration:


King David Nyamedor's journey serves as an inspiration not only to aspiring divers but to individuals facing adversity worldwide. His determination, resilience, and unwavering faith propelled him to overcome significant obstacles and reach new heights. King David's story is a reminder that passion, perseverance, and a strong sense of purpose can lead to extraordinary achievements, even in the most unlikely circumstances.
Conclusion:


King David Nyamedor's incredible ascent from a migrant facing unusual circumstances to an international diver is a testament to his indomitable spirit and unyielding dedication.
His success in completing the Divemaster course and becoming a member of PADI showcases his commitment to excellence and the pursuit of his dreams. King David's story serves as a beacon of hope, inspiring others to embrace their passions and overcome challenges, reminding us that our dreams are within reach, regardless of our starting point.