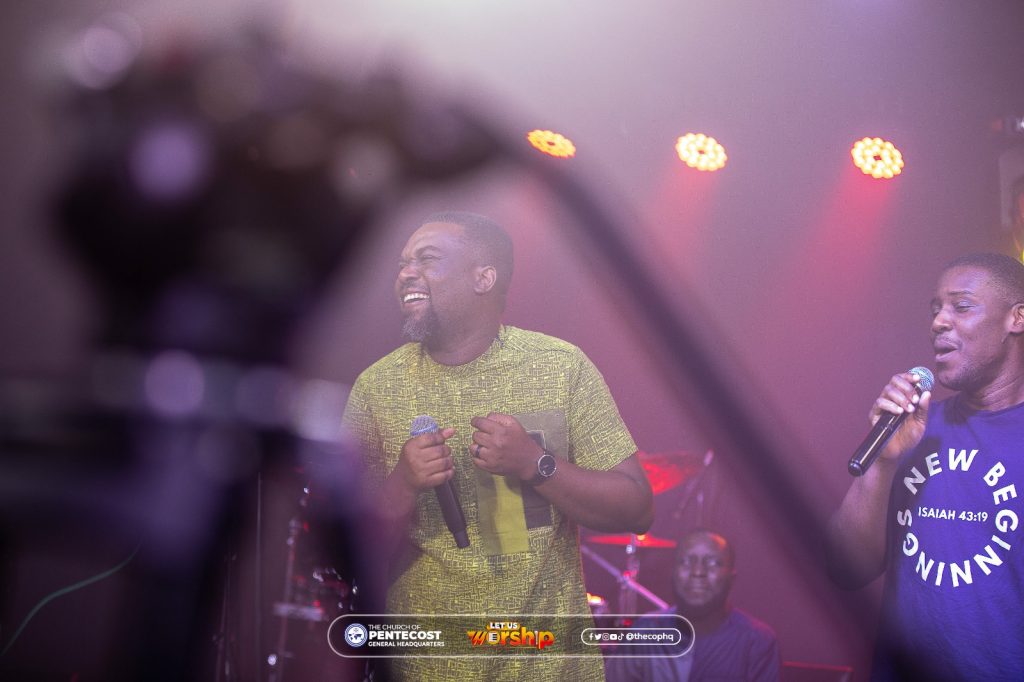 It's been a long while since I attended a worship event.
However, today gave me one of the rare opportunities to join Minister Joe Mettle's Praise Reloaded at the Oil Dome at the Royal House Chapel here in Accra
Earlier on, Minister Joe Mettle had joined us on Tuesday on LET US WORSHIP on PENT TV to give us a foretaste of what had been incubated for the release today.
And I must confess that indeed Praise RELOADED was a comprehensive, holistic and mind-blowing package.
ARRIVAL & PROTOCOLS
My wife and I arrived at the event quite early and from my observation, it was clear that the team Joe Mettle and the organizers started the event on time.
From the look of things, one could tell that many people were highly enthusiastic of the programme and their sense of hunger drove individuals, couples, groups and families even Government officials to the grounds – At least I interacted with the Hon. Minister of Information, Kojo Oppong Nkrumah and also saw the Hon. Sam George, MP for Ningo Prampram
Personally, I was impressed with the well cultured and warm looking ticket attendants who wrapped the designated ticket wrap around our wrists and wished us a great event – not to talk of the well-built and yet calm and composed security officials whose fearful look regardless oozed a sweet smile once your ticket allowed you passage in the right lane.
Thankfully, we had complementary tickets and graciously were seated at the second lane to the left of the front row which gave us a perfect view of the whole experience.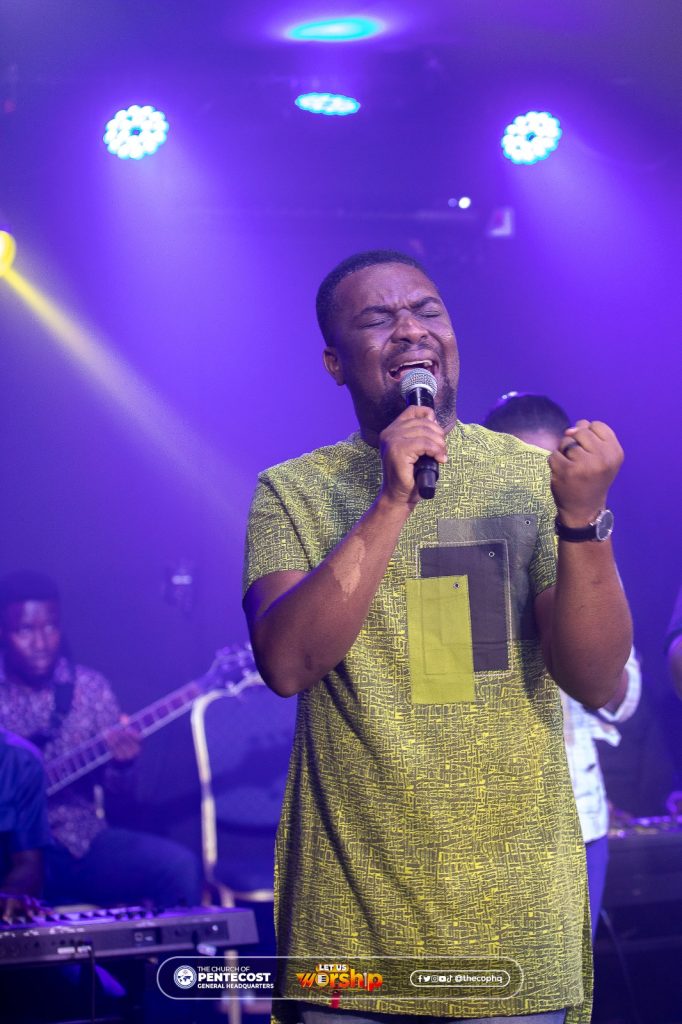 MINISTERS
BETHEL REVIVAL CHOIR
At the time, we were being ushered in, the Auditorium was charged with the scintillating sounds from the Bethel Revival Choir.
Now as a student of indigenous Ghanaian songs, Bethel Revival Choir continue to awe me with how they have effectively combined the Ewe language with contemporary sounds and rhythms.
The melodic structure, vocal arrangements and the instrumentation resonate with both the young and old. You should have been here to see how both young and old throng the front area to swing and swivel to modern agbadza tunes which was hyped conclusively by Pastor Edwin Dadson's Tegbe, Tegbe.
PASTOR EDWIN DADSON


I must confess that Pastor Edwin Dadson is one of the gospel vocal powers I respect in the Ghanaian gospel music ministry. I am awed by his commitment as a church minister serving faithfully in his church and being cultured as a priest in service.
Nonetheless, his vocal prowess and delicious combination of great and yet simple praise melodies sets him apart for me as one of the Praise Giants in Ghana today.
Like a master designer, he is able to measure out the garment of praise, crafting out a fitting praise kaftan for his clients.
CECI TWUM
It is refreshing to say that if USA have Cece Winans, we also have our own Cece Twum and our big sister came to town in a grand style.
Obviously, Ceci Twum stands out of as a vocal power and she sets us free calling us to chant…..freedom, freedom for her liberated voice brought total liberation to us to the extent that the audience reverbed freedom as she glided left the stage…her silk and sleek custome was on point
REV. BENARD TWUMASI
Then came Rev. Benard Twumasi whose exhortation treatise began by elevating Christ the elevator whose elevating praise can draw out lazaruses from their tombs – this revelation was strong enough to awaken one of Africa's strong revival voices, Minister Dusin Oyekan from Nigeria onto the stage.
MINISTER DUSIN OYEKAN
We cannot belabour the point that Minister Dusin Oyekan is in a different realm.
Indeed, I cannot find enough words to describe who this servant of God is. Many people come into events expecting encounters and clearly the man of God came with God's manifold, tangible and real presence.
From the outset of I am more than song to leave me at the altar with my father culminating into when the glory came and we had no words to say….many came and were left at the altar where the secret of speed was attained.
I can say that this is one of the few events, I've seen God's tangible raw power move causing many patrons drenched in the power of the Holy Spirit – I will expound on that in PART 2 of this write up.
But this was what we call WORSHIP garnished with REVIVAL.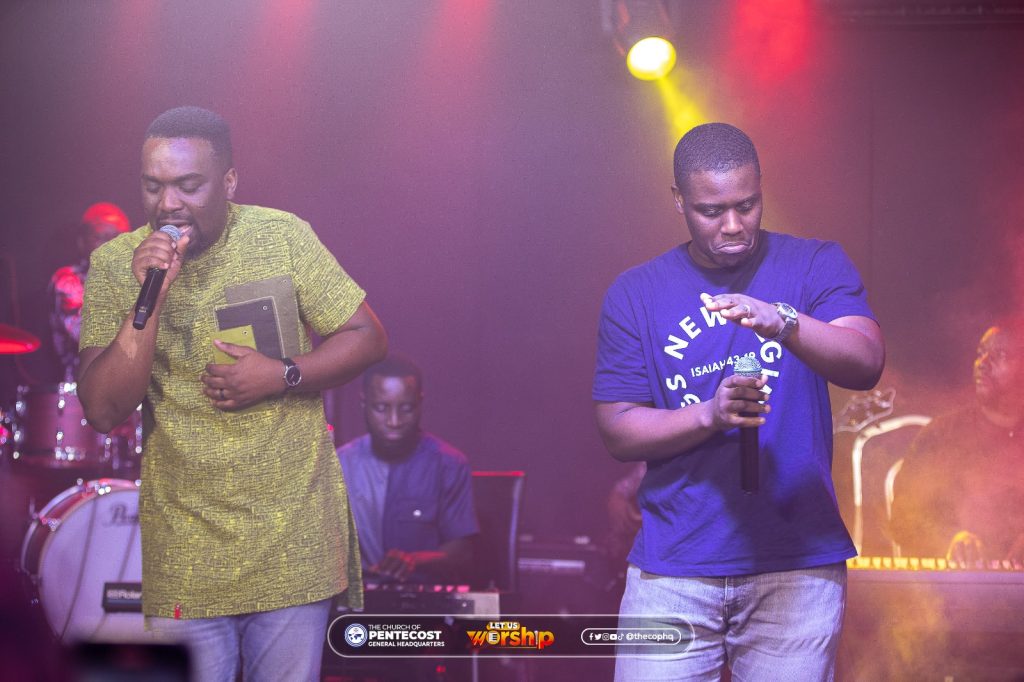 Indeed we did not come for a concert but we came for a set up with the HOLY GHOST ..Zion the city of God where Adam was made in God's image and outside time but all we need is a MOMENT and surely we had it.
I would be back with PART 2 of this submission. In the meantime, My name is sofoannor and sometimes I write