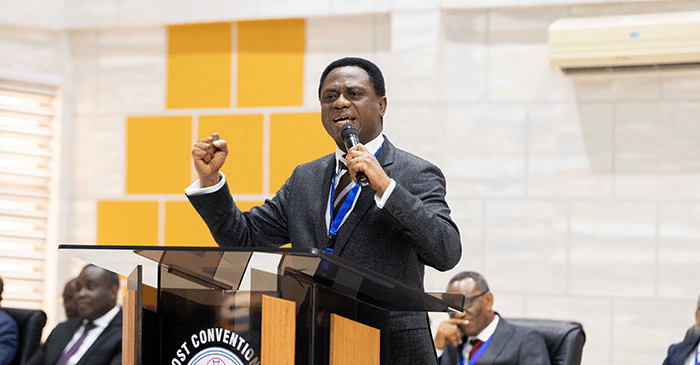 "We need to strive for maturity to avoid repeating the ancient things that worried the early fathers and leaders of the Church," Apostle Eric Nyamekye, Chairman of The Church of Pentecost, has stated.
Speaking at the Heads' Session of the 46th General Council Meetings of The Church of Pentecost, on Monday, May 1, 2023, at the Pentecost Convention Centre (PCC), Gomoa Fetteh, on the topic: "Striving For Maturity," (Isaiah 63:9-14), Apostle Nyamekye said that God identified with His people's suffering, redeemed them, and lifted them from all their miseries.
He stated: "God gave His people rest after He brought them from the Promised Land, and He led them through the moments of difficulties."
On the forthcoming elections and Executive Council decisions in the Church, the Chairman disclosed that the election of key leaders everywhere has always been characterised by tension, uncertainty, anxiety, and fear, saying, "Don't vote because of elections, do so because the candidate is a Man of God."
He explained that tensions are often propelled by the quest for power, the want of family relatives to get into positions, and friends inciting against people chosen when it does not favour them.
"These reasons raise tensions that sometimes lead to undesirable outcomes. Elections always breed tensions which, when not handled well, would not end well," he cautioned.
In the church, he pointed out that elections are the choice of God for individuals as for a particular work or favour or salvation, stressing, "When it comes to elections, God chooses for Himself."
Apostle Nyamekye, who is also the President of the Ghana Pentecostal and Charismatic Council, assured the clergy that God is bigger than the Church, and He will never disappoint it. Therefore, they must rest in the Spirit of God.
Reflecting on Luke 9:46 and Luke 22:17, he noted that the disciples showed signs of maturity in their works, however, when it came to the election of a replacement for Judas, there was tension among them.
Apostle Nyamekye urged the church leaders to seek the power of the Holy Spirit to control the flesh in every decision they made, which according to him, is the cause of the manifestations and tensions during seasons like this.
"When people are righteous, they handle difficult moments beautifully," he said, adding that the secret of a servant of God's life is that he stays in tune with God all the time.
Concluding, the Chairman urged councillors to be led by the Spirit of God and not the flesh when making decisions on the election of leaders.
The 46th Session of the General Council Meetings will involve the election of the Chairman, General Secretary, and four Executive Council Members and reviews, transfers, and appointments into various roles in The Church of Pentecost.
PENTECOST NEWS