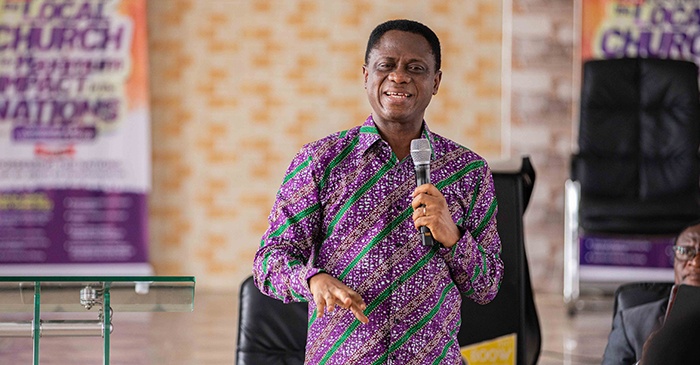 The Chairman of The Church of Pentecost, Apostle Eric Nyamekye, has advised ministers and wives of the Church to make conscious effort to develop a positive attitude as it has a great bearing on the impact of their ministry.
"Your attitude would either draw people closer or repel them. It would cause people to either love you or hate you. So, as a minister of the Gospel, your attitude is everything," he said.
Apostle Nyamekye gave this admonition when he met with ministers and wives of the Nsawam Area today at the Palm Assembly church auditorium at Adoagyiri as part of the Area's ongoing Ministers and Officers' Retreat (Apostolisation).
Speaking on the topic: "Repositioning Your Ministry," the newly-elected President of the Ghana Pentecostal and Charismatic Council (GPCC), defined attitude as an individual's (or a leader's) response to happenings around them.
"Attitude is your manner, disposition, feeling, position, etc., towards a person or thing. It could be positive or negative. A negative attitude is threatening while a positive attitude is mostly relaxed," he explained.
The Chairman further explained that underlining a good or positive attitude is the principle of respect for all, seeing value in everyone, stressing that: "Greater love for others drives positive attitude."
Apostle Nyamekye said that, since the work of ministry is all about working with people, a positive attitude is needed by the minister to enable him relate well with officers and members of the Church and effectively minister to them.
The Chairman posited that a minister who lacks a good attitude would struggle to lead and impact his members because a negative attitude tests the patience and tolerance of many.
He, therefore, emphasised that although it takes much effort and sacrifice to develop a positive attitude, it is a quality every minister should strive to possess in order to make a meaningful impact in the lives of his members and have a fruitful ministry.
In addition to having a positive attitude, the GPCC President also advised the ministers to acquire skills and a good character so as to be effective leaders and shepherds of God's people.
Making reference to Psalm 78:71-72 to buttress his assertion, Apostle Nyamekye said that David is considered a great king because he possessed skills and had an integrious heart.
PENTECOST NEWS.