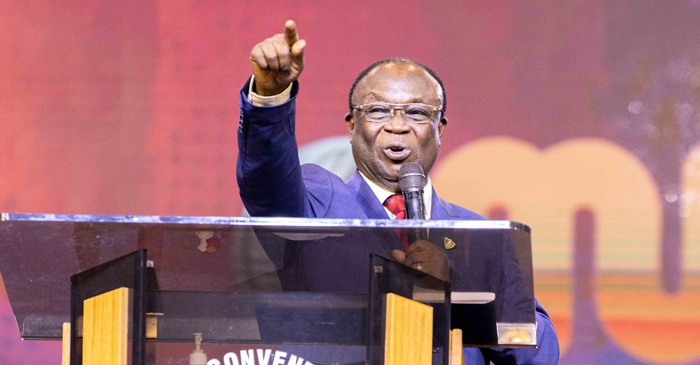 A Trustee of The Church of Pentecost, Elder Dr. Ken Aboah Esq., has charged Christians to make evangelism a personal lifestyle in order to reach more people with the gospel.
He explained that the greatest obstacle to evangelism is Christians who do not share the gospel, attributing this phenomenon to the absence of the love of God in the life of the believer.
Elder Dr. Aboah who is also a National Executive Committee (NEC) Member of the Evangelism Ministry gave the charge when he spoke on the theme: 'The local church in Evangelism" at the 2023 Global Ministers and Wives' Conference currently underway at the Pentecost Convention Centre, Gomoa Fetteh, near Kasoa.
He posited that when Christians preached the gospel with the power of God, backed by the Holy Spirit and prayers, nobody can thwart the plans of God in making the hearers of the Word come to the saving knowledge of Christ.
"The only good news in the world today is that Jesus died to save sinners, and this must be preached daily. Don't let one day pass by without sharing the gospel," he reiterated.
Referring to God's covenant with The Church of Pentecost coupled with his personal evangelistic ministry, Dr. Aboah bemoaned the gradual emerging trend of altar calls not being made during church services in some local assemblies of the church.
"We have to make sure to hand over to our children the tenets in the covenant; and the key factor for the growth and sustenance of the church around the globe is aggressive evangelism," Lawyer Aboah stated.
To this end, he appealed to the ministers and their wives to continuously preach on the second coming of Christ (eschatology). He emphasized that the unreached people in the world could be reach with the word of God through deliberate prayers, planning, preparations, and presentation of the gospel.
Elder Dr. Aboah further called for more financial investment in the evangelistic drive of the church and members undertaking such endeavours.
He used the opportunity to recommend the Schools Outreach Ministry, the Church on the Ocean (reaching out to seamen, fisherfolks) and Prayer Evangelism (scheduling prayer sessions for specific groups) and Festival Evangelism as emerging forms of evangelism which has great impact worthy to be undertaken for maximum results.