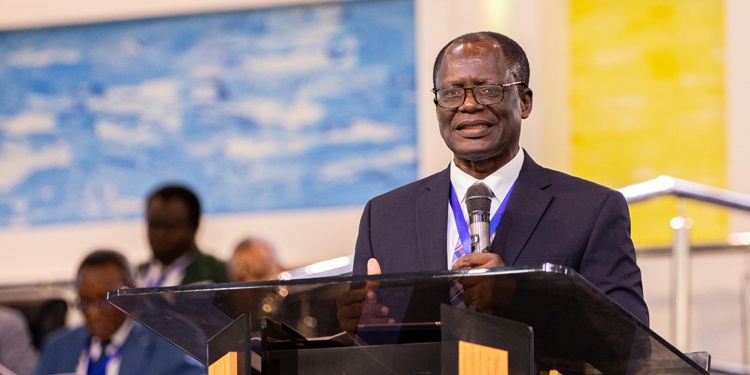 The Cape Coast Area Head of The Church of Pentecost, Apostle Samuel Yaw Antwi, has charged church leaders to promote and encourage personal devotions as an avenue in repositioning the local church to possess the nations.
According to the Executive Council Member, the local church should be seen as the focal point for the implementation of Vision 2023, which is the 5-year strategic plan of the church.
"Church leaders must, therefore, consider reviewing and strategizing activities of the local church towards this implementation," he stated.
Apostle Antwi made this charge on Wednesday, November 16, 2022, during the 2022 Heads' Meetings, which is happening at the Pentecost Convention Centre (PCC), Gomoa-Fetteh, near Kasoa.
Delivering a paper on the topic, "Encouraging Personal Devotion and Small Groups Prayer Meetings to Strengthen the Local Church," the Cape Coast Area Head said that the need to develop personal devotion should come from the knowledge that the local church consists of individuals who must come together to deepen their faith in Christ (Mark 1:35, Luke 22:39-40, Acts 2:42; 8:27-31).
"It is vital that each person develops their spirituality by personal devotion to God because without each person making time to pursue God in their own lives, there is no church," he explained.
Defining personal devotion, he said that it is an act of prayer or private worship undertaken in order to continually know the Lord and be built up in God, adding, "Personal devotions carry with it the idea of loyalty and love or care for someone."
Using Job (Job 1:5) and Daniel (Daniel 1:8, 6:10) as examples of individuals who committed to personal devotions, the Central Regional Committee Co-ordinator of the church iterated that as a custom, personal devotions, become part of one's behaviour by which he or she can be identified with.
He, however, noted that it should be a personal resolve and obligation to respond to worship from one's conviction and understanding.
"In biblical devotion, we are establishing a custom in the life of the individual in the church," Apostle Antwi stressed, urging church leaders to push personal devotion as a habit in the members to further promote the local church.
Giving the benefits of personal devotion among members in the church, Apostle Antwi pointed out that it helps the believer to grow in the knowledge and understanding of the Lord and His Word, helping believers to have a deeper relationship with Christ, grants strength to the weary, brings God-consciousness, and helps in becoming more like Jesus Christ.
Apostle Samuel Yaw Antwi further admonished that small prayer groupings in the local church must be instituted to build up the spiritual growth of the members.
"Even though the church has been doing well on mass prayer time, refocusing on individuals and small groups is of utmost importance," he said.
PENTECOST NEWS