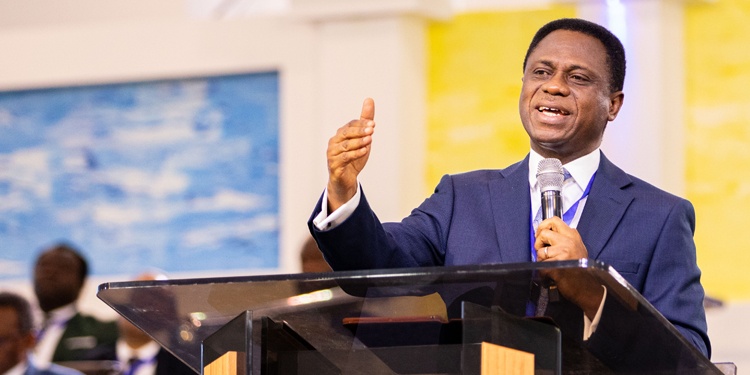 The Chairman of The Church of Pentecost, Apostle Eric Nyamekye, has called on the leadership and members of the Church to make conscious efforts in positioning the local church as the pivot of growth for maximum impact in the nations.
According to him, the existence of a local church whose members are loved, nurtured, and rooted in the word of God, and in Christ would be the highest joy and greatest opportunity in building up and consolidating new members who join the church.
Launching the Church's theme for 2023 at the ongoing 2022 Heads' Meeting at the Pentecost Convention Centre, Gomoa Fetteh, Apostle Nyamekye stated that The Church of Pentecost remains very committed to the Vision 2023 agenda of 'Possessing the Nations,' adding that equipping and building up of the local church and family unit in godliness and faithfulness will project a steadfast and strong church.
The 2023 theme: "Repositioning the Local Church for Maximum Impact in the Nations," has 1 Thessalonians 2:19-20 and Colossians 2:5-7 as the anchor scripture verses.
The Chairman disclosed that the Church will continue to adopt the military strategy of building morale and equipping the local church with a healthy church life in order to position it as a formidable army for God.
"We foresee that when the local church is repositioned, its confidence is built, the members can be equipped and unleashed – sent out as channels to make the desired impact," he explained.
The 2023 theme has the following as thematic topics to be treated: Stoking the Fire of the Holy Spirit, Living in the fear of God in the local church, The Local Church as a Family and The Local Church Upholding the values of Godliness. The rest are Sacrificial Giving and Tithing, Repositioning the Local Church for Evangelism, Christian Visitations in the Local Church, Raising Family Altars to strengthen the Local Church – Lessons from the Puritans and Encouraging Personal Devotion and Small Groups Prayer meetings to strengthen the local church.
There were fraternal greetings from the past Chairmen of the Church, Apostle Dr. Michael Kwabena Ntumy and Apostle Prof. Opoku Onyinah.
Apostle Nyamekye used the opportunity to acknowledge and appreciate seven heads of the church who were attending the Heads' Meeting in their official capacities for the last time.
Former Chairman of the Church, Apostle Dr. Michael Kwabena Ntumy, is one of the seven ministers of the Church who are due for retirement next year.
The others are Apostle David Tettey Tekper, Apostle Dr. Benjamin Ali, Apostle Emmanuel Gyesi-Addo, Apotre Kobbina Atta, Apostle Jones Awuah Afrifa, Apostle Moses Kwame Ahiakor.
The Chairman led participants in applauding them for their praiseworthy services to God and the church with a standing ovation.
PENTECOST NEWS