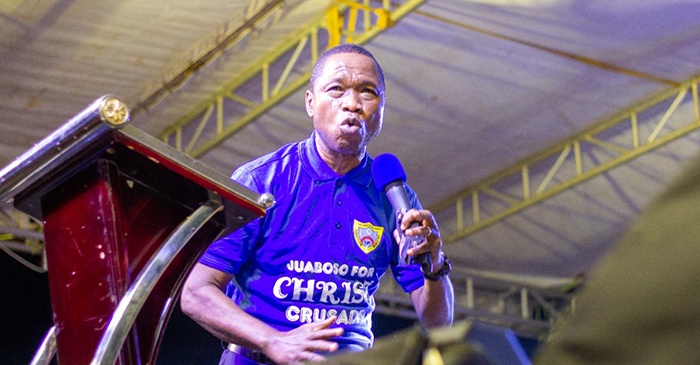 Elder Stephen Awuah Kesse, Leader of the Agona Prayer Centre in the Tarkwa Area of The Church of Pentecost, has advised Christians to be resolute in their faith in all situations.
According to him, Christians can always find hope even in times of distress, stressing that "hope is found in Jesus alone. So, when you feel that all is lost, know that Jesus gives hope."
Elder Awuah Kesse was speaking on Day 2 of the "Juaboso for Christ" crusade being jointly held by the Sefwi Juaboso Area and the Evangelism Ministry at Juaboso Town Park.
Dwelling on the story of the woman with the issue of blood in Mark 5:25-34, Elder Kesse said it took just a day for the woman to meet her destiny helper.
He, therefore, urged Christians to be hopeful in the Lord and trust that, in the appointed time, He will also come through for them.
"Men may neglect you, but God will never forsake you. It takes a day in the life of everyone to meet their destiny helper," he said.
Elder Awuah Kesse also advised believers to be extra cautious during difficult times because the devil usually takes advantage of their predicaments to sway them from the Christian faith.
"We are always waging war against Satan over the faith we have in Christ Jesus. Do not allow your mind, which is the battleground, to be dominated by the words of friends and relatives or the deceit of the devil. Take a bold decision and be determined to walk with Jesus," he advised.
Elder Awuah Kesse also urged Christians to take inspiration from the testimonies of others who demonstrated great faith in the Lord in difficult situations and were rewarded for it.
"The touch of Jesus brings liberty and wholeness. Just believe in the power of Jesus; He will turn your situations around," he said.
PENTECOST NEWS.