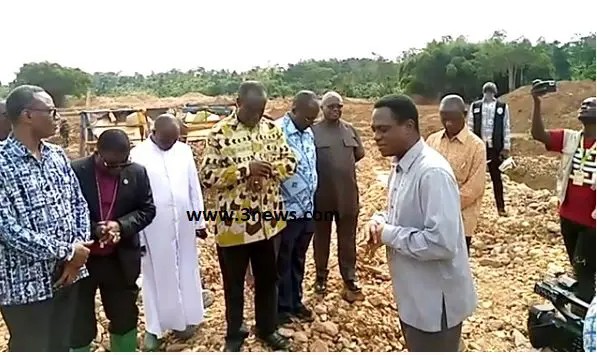 The General Secretary of the Christian Council of Ghana, Rev. Dr. Cyril Gershon Kwao Fayose, has expressed his displeasure at the commentary some people on social media made when clergymen were captured at an illegal mining (galamsey) site praying.
Speaking on The Probe on JoyNews on Sunday, he said that the men of God visited numerous galamsey sites to observe the damage as part of their plans to take drastic action in the fight against the menace.
Among other things, Rev Fayose noted that they visited chiefs who complained about the damage done to their communities, sites that were still operational and many other places to engage residents.
"We did not go there for the reasons that social media is trying to create. They have literally twisted the reason why we went to the galamsey site. I am really saddened, and taken aback by the fact that something so serious, that religious leaders are taking more drastic action to bring it to an end, the public will make such a mockery of it," he added.
During the week, a video of some clergymen praying at a galamsey site went viral.
They had visited galamsey sites, assessing the damage and urging the government to put an end to the menace.
But the video which showed them praying received mixed reactions from the public with many calling out the religious leaders.
However, Rev Fayose explained that "we went there to see for ourselves. Before you make a very concrete comment about the situation you must have a first-hand experience and that is why we went there."
He said that as religious people, they also believe in the spirit, hence the prayer to crown their activities after their tour.
"We believe that whenever we pray, things happen. So, at the end of everything, we decided to sing songs and pray and that is the only part that the media lifted up. The whole visit to the chief palace, the engagements, the lamentations of the chief, the actual visit to sites that were still operational, all of that were not captured."
Rev Fayose, however, stated that despite the public's reaction, the men of God are determined to join the fight against galamsey.
Also on the show, the Chairman of the Board of Trustees of the Full Gospel Church International in Ghana urged the government to go after the bigwigs engaging in galamsey.
"When they are able to get them arrested, prosecuted and jailed, perhaps we should come up with a law that will confiscate their acquired assets through illegal mining, use those resources to fix the things they have damaged and destroyed," Most Rev Samuel Mensah stressed.
Source: Myjoyonline
DISCLAIMER: The Views, Comments, Opinions, Contributions and Statements made by Readers and Contributors on this platform do not necessarily represent the views or policies of Pent Tv Ltd | Pent Media Center