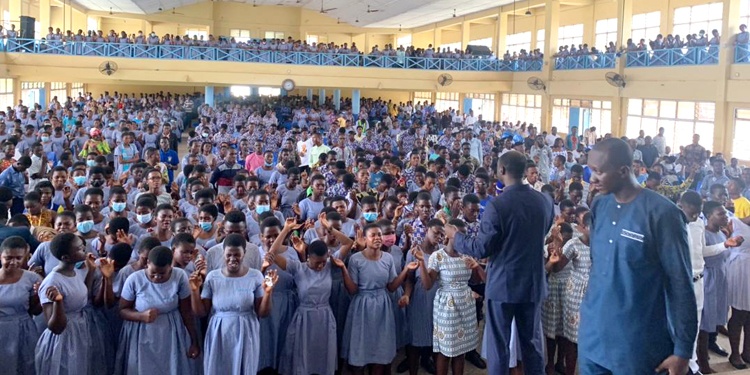 Over 2000 students turned up for this year's edition of the annual Greater Works Conference organised by the Pentecost Students and Associates (PENSA), Kwadaso Sector.
The event, which took place at Yaa Asantewaa Girls Senior High School last Saturday, drew participants from over 20 tertiary and pre-tertiary schools within the sector (Kwadaso, Abuakwa, Ashanti Bekwai and Obuasi Areas)
Welcoming participants to the event, Pastor Isaac Donkoh, the PENSA Travelling Secretary and convener of the event, emphasised that the "Greater Works Conference" is organised annually to equip the students with godly values and principles in order to build their faith in the Lord and stir up their passion to pursue academic excellence.
He further remarked that God's reputation on campus, or the world's opinion of God, will depend, to a large extent, on how far His glory is seen or manifested in the lives as Christians.
He, therefore, urged the students to avail themselves for the Lord and Creator, to use them for the good works (exploits) He has prepared in advance for them to do (Ephesians 2:10).
Mrs. Theodora Oduro, the Senior Assistant Registrar at the Kwame Nkrumah University Science and Technology (KNUST) and a member of PIWC-Asokwa, gave a presentation on the topic, "Pursuing Academic and Entrepreneurial Excellence" at the event.
She stated that the quality of a persons' life here on earth depends on fulfilling God's plan and purpose for their life.
Taking her key scriptures from 2 Timothy 2:15 and Daniel 6:3, she encouraged students to pursue academic excellence because it brings glory to God, provides better employment opportunities, ensures higher salaries, and also offers Christians the opportunity to handle the technologically demanding occupations in the world.
To achieve academic excellence, Mrs Oduro advised students to learn to balance their lives (bear in mind that there is time for everything), depend on the Holy Spirit, set smart goals for your life.
"Set specific, academic, and spiritual goals for your life and practice effective time management skills," she said.
Pastor Samuel Asiamah, Resident Minister for PIWC-Kwadaso, who doubles as the Area Youth Pastor, also spoke on the theme "Manifesting His Glory."
According to him, manifesting the glory of God is not a theory but an experience that every young person must pursue.
He stated that the glory of God brings victory and reveals the power of God in a person's life, and therefore, every Christian to seek the glory of God in order to experience greater works.
The wife of the Travelling Secretary, Mrs. Doris Donkoh, also gave a presentation on "Developing an Effective Quite Time / Devotional Life."
In her presentation, she encouraged students to commit to having a one-on-one fellowship (interaction) with God through prayer, reading and meditation of His word.
"A quiet time spent with God before a day's activity gives the believer the strength and freshness to triumph," she said.
She cited Jesus, David and Daniel as examples of great men in the Bible who had personal relationship with God through their devotional life and urged the students to emulate them.
To the glory of God, 129 students surrendered their lives to Jesus Christ, 157 rededicated their lives to Him, and 309 students received Holy Ghost baptism.
Among the mammoth gathering were six PENSA Patrons, including Elder Cosmos Appiah, the Patron's Representative on the Working Committee, Deaconess Mrs. Millicent Pimpong, Senior Registrar of AAMUSTED (erstwhile UEW-K), and Deacon Daniel Boateng. the Kwadaso Sector Head.
PENTECOST NEWS.