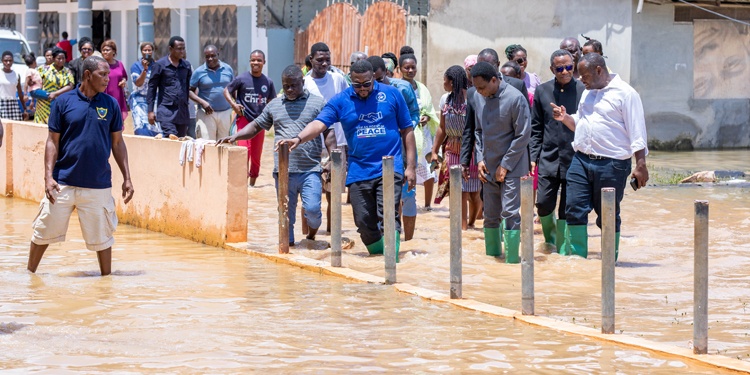 The Chairman of The Church of Pentecost, Apostle Eric Nyamekye, today visited members of the church in the Anyaa Ablekuma and Odorkor Areas who have been displaced due to the spillage of water from the Weija dam.
According to the Chairman, the visit was to commiserate with the affected persons, pray with them and assess the extent of damage caused by the flood.
Communities close to the Weija Dam, including Weija, Oblogo and Tetegu, have been submerged by a flood for the past three days after the Ghana Water Company Limited (GWCL) opened five spill gates of the Weija dam to spill water to save it from collapse.
About 1160 members of the church within the Odorkor and Anyaa-Ablekuma Areas have been directly affected by the spillage, rendering them homeless – some of the affected persons (both members and non-members) are being housed in church auditoriums.
The Anyaa Ablekuma Area Head, Apostle William Ohemeng, together with some ministers in the Area, led Apostle Eric Nyamekye to the Afoaman, Ayikai Doblo and Ashalaja districts, where he interacted with the affected members. The Chairman was accompanied by the General Secretary of the Church, Apostle A.N.Y Kumi-Larbi.
The delegation also visited victims in the Mallam-Gbawe municipality who were the most affected by the spillage. They were led by the Odorkor Area Head, Apostle Isaac Tetteh Judah, and a cross-section of the area pastorate and Area Executive Committee members.
At Tetegu, where the water level was still quite high, the Chairman and his entourage met and interacted with some affected members who had sought refuge in the Central Assembly church auditorium.
The Chairman ended his tour at the Weija Central Assembly church auditorium where hundreds of affected members had also converged to meet him.
Addressing the victims, Apostle Eric Nyamekye urged them to be hopeful in the Lord and to be grateful for the gift of life despite their predicaments. He advised them to trust the Lord to replenish all they have lost as a result of the flood.
He also said that having witnessed firsthand the extent of damage, the leadership of the Church would come up with the most suitable way to support them,
He, however, revealed that, in the interim, the Church has reached out to the National Disaster Management Organisation (NADMO) to come to their aid and provide them with some relief items such as bags of rice, mosquito nets, life jackets, student mattresses, clothing, etc.
Apostle Isaac Tetteh Judah added that the Odorkor Area has also set up a special fund to support the victims.
PENTECOST NEWS