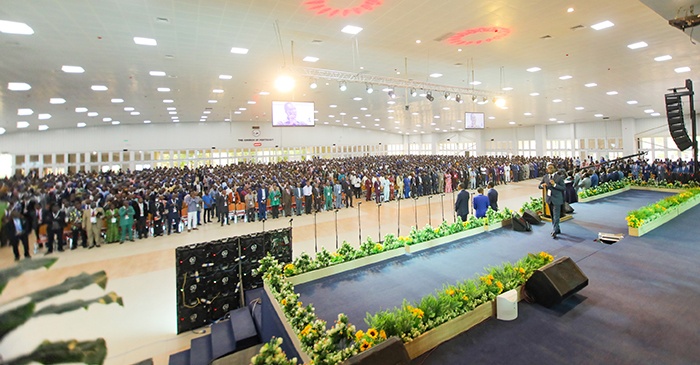 After many days and months of waiting, the much-anticipated All Ministers' Conference, a non-denominational conference for Ghanaian ministers of the gospel, has kick-started at the Pentecost Convention Centre (PCC), Gomoa Fetteh, near Kasoa in the Central Region of Ghana.
Close to 500 different Christian denominations are being represented at the historic conference which officially opened today, September 14, and will end on Friday, September 16, 2022.
Two thousand, nine hundred and sixty-seven (2,967) ministers are taking part in the conference, far exceeding the expected number of participants of 2,800. Out of the total participants, ministers from other denominations constitute the majority with 1,547 participants, while The Church of Pentecost is represented by about 1,420 ministers.
Participating in the event, which is under the theme: "Rediscovering and Fulfilling the Purpose of the Church" – Ephesians 3:10, Titus 2:13-14, are various heads of churches and prominent clergymen.
The conference seeks to help bring to the fore the understanding of the dual purpose or the dual identity of the Church; that the Church is called out of the world to belong to God and sent back to the world to witness and to serve His purpose among the nations.
Among the speakers are Apostle Eric Nyamekye (Chairman, CoP), Apostle Professor Opoku Onyinah (Rtd), immediate past Chairman of CoP and former President of the Ghana Pentecostal and Charismatic Council (GPCC), Rev. Prof. Paul Frimpong-Manso (President of the GPCC and immediate past General Superintendent of the Assemblies of God, Ghana), Rev. Dr. Kwabena Opuni-Frimpong (former General Secretary of the Christian Council of Ghana), and Apostle Dr. Ami-Narh (President of The Apostle Church).
Others are Very Rev. Prof. Kwabena Asamoah-Gyadu (President of the Trinity Theological Seminary), Bishop Emmanuel L. Nterful, Pastor E. K. Duodu, Apostle Alexander Nana Yaw Kumi-Larbi (General Secretary, CoP), Dr. Joyce Aryee (CEO, Salt and Light Ministry), and Mr. Samuel Attah-Mensah (General Manager of Citi FM).
PENTECOST NEWS.