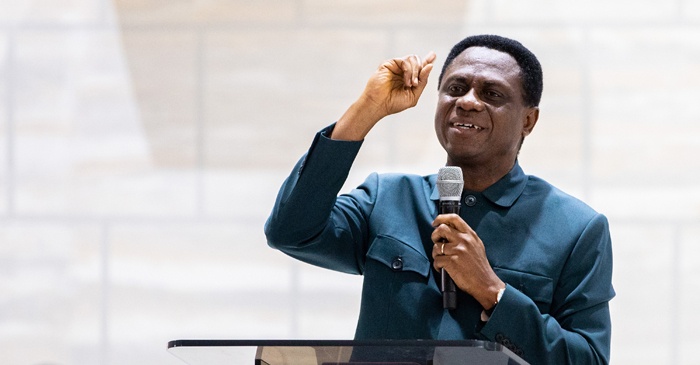 The Convenor of the maiden All Ministers' Conference, Apostle Eric Nyamekye, has assured that the great power of God will be manifested in the upcoming conference.
The non-denominational conference which is being organised by The Church of Pentecost for Ghanaian ministers of the gospel, takes place from September 13-16, 2022, at the Pentecost Convention Centre (PCC), Gomoa Fetteh, near Kasoa in the Central Region of Ghana.
Apostle Nyamekye, who is the Chairman of The Church of Pentecost, believes that God has a purpose for the Church and, through the conference, that purpose will be realised so that the face of Christianity in Ghana will be changed for the better.
Speaking at a 2-day orientation and prayer session for heads and their wives of The Church of Pentecost on Monday, September 12, 2022, towards the All Ministers' Conference, Apostle Nyamekye disclosed that the conference has been oversubscribed as over 400 different Christian denominations have so far registered their ministers to take part in the event.
He indicated that due to limited accommodation facilities currently at the convention centre, only 2,800 participants will be admitted to the conference.
Reading from Joshua 10: 40-43, Apostle Nyamekye said that Joshua was able to conquer the strong nations at Kadesh because the Lord fought the battles for him.
Relating it to the enviable position that the Lord has brought The Church of Pentecost, Apostle Nyamekye intimated that God has taken the church from the fringes of society to the limelight.
"God has blessed The Church of Pentecost so much. A church that had no name and respect some years back, is today taking the initiative to organise this big conference for the Christian community in Ghana. This is how great the Lord has made this church."
"We are not going to teach them how to do or manage their churches; we respect what they are doing. But we want to forge together as a unit to build the body of Christ."
The All Ministers' Conference is on the theme: "Rediscovering and Fulfilling the Purpose of the Church" – Ephesians 3:10, Titus 2:13-14.
The speakers include Apostle Eric Nyamekye (Chairman, CoP), Apostle Professor Opoku Onyinah (Rtd), immediate past Chairman of CoP and former President of the Ghana Pentecostal and Charismatic Council (GPCC), Rev. Prof. Paul Frimpong-Manso (President of the GPCC and immediate past General Superintendent of the Assemblies of God, Ghana), Rev. Dr. Kwabena Opuni-Frimpong (former General Secretary of the Christian Council of Ghana), and Apostle Dr. Ami-Narh (President of The Apostle Church).
Others are Very Rev. Prof. Kwabena Asamoah-Gyadu (President of the Trinity Theological Seminary), Bishop Emmanuel L. Nterful, Pastor E. K. Duodu, Apostle Alexander Nana Yaw Kumi-Larbi (General Secretary, CoP), Dr. Joyce Aryee (CEO, Salt and Light Ministry), and Mr. Samuel Attah-Mensah (General Manager of Citi FM).
PENTECOST NEWS.