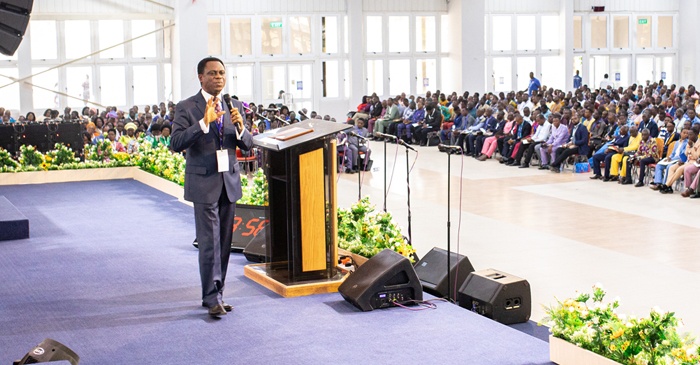 The Chairman of The Church of Pentecost, Apostle Eric Nyamekye, has charged church leaders to fulfill their calling by arising as change agents to transform every sphere of society.
According to the Chairman, every generation of Christians determines what type of culture will rule their society and it lies in the hands of the church and Christians to change their nations. But if they fail to accomplish this task, he said, God will raise another generation for this agenda.
"The church is the hope of the manifestation of the glory of God as it is the most powerful institution on earth and the most loved by God because she is the bride of Christ," he affirmed.
Apostle Nyamekye made this call to church leaders on Friday, September 16, 2022, at the All Ministers' Conference held at the Pentecost Convention Centre (PCC), in Gomoa Fetteh, near Kasoa.
In a sermon based on Ephesians 3:10-11, Apostle Nyamekye stated that the church is to partner with heaven to control the earth and the heavens since heaven is always waiting for the church to move for a greater impact in transforming societies.
Talking about the zeal and passion of the early church in transforming their nations, Apostle Nyamekye stated that the early church was not a group of people meeting together for God to supply their needs, but their agenda was going into all the world and transforming it for the Lord.
He admonished church leaders not to try building their own churches but step out with Kingdom values and principles and affect every sphere of society.
Chairman Nyamekye further stated that God is not terribly concerned with church size and church ministries, but His concern is that through the Church, nations will walk in righteousness.
"Churches do not exalt nations, it is righteousness that exalts a nation," he added.
Explaining further, he revealed that the church fulfills its calling when it transforms spheres like government and politics, chieftaincy, business and economy, education and science, media space, culture and entertainment, sports and religion, and the family, among others.
He then admonished Christians to transform the family sphere by intentionally building family altars with consistent family devotions.
"If we manage the family well, we will be saving the next generation and the home should be our first church and a seminary where godly children will be consciously raised for the church and the state," he ended.
PENTECOST NEWS.