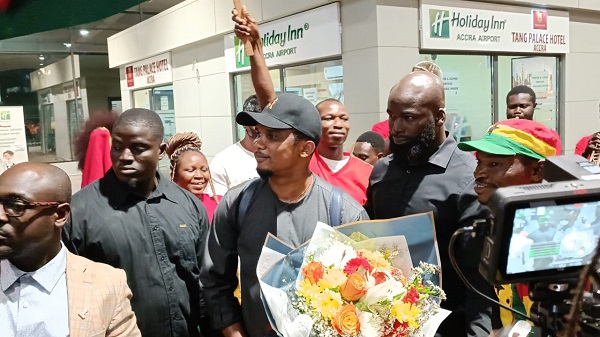 Qatar Legacy Ambassador Samuel Eto'o Fils touched down at the Kotoko International Airport last night with a mission to ensure that the managers of the Black Stars are armed with the best information heading into the 2022 FIFA World Cup in Qatar.
According to Eto'o, who is the leader of the Supreme Committee and Legacy delegation from Qatar with the right information, sub-Saharan Africa's representatives at the Mundial – Cameroon, Senegal and Ghana – can make a huge splash and even go all the way to win the World Cup.
Speaking through a translator, Eto'o who played in the 2008 African Cup of Nations in Ghana told GraphicOnline that: "First of all I feel at home and I don't need a reason to be back home," yesterday.
"However I came with our brothers from Qatar for our national teams to get the best possible information so that they give us the best results and why not? Win the world cup for us".
According to him, although he had no expectations of the trip, his wish was for Ghana to go into the World Cup fully prepared.
Reception
Eto'o was received at the airport by the Spokesperson of the Ghana Football Association, Henry Asante Twum and members of the Ghana Supporters Union.
The fans greeted the African football legend with cheer songs amid drumming and dancing.
Ambassadorial role
In his role as an Ambassador, Eto'o has worked on several charitable projects. In April 2019, he visited a school for refugee children in Malaysia to witness the work of the Education Above All Foundation with its founder H.H. Sheikha Moza Bint Nasser.
Each ambassador plays a unique role in communicating Qatar's vision for the FIFA World Cup Qatar 2022™ and its legacy programmes.
They are to showcase the beauty of Qatar and the Arab world, the warmth of the people, the richness of their cultural heritage and hospitality.
Other ambassadors include: Tim Cahill, Cafu, Xavi Hernández and Ronald de Boer.