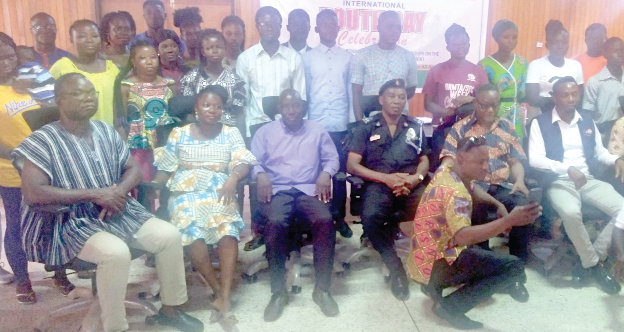 The Upper East Regional Director of the National Youth Authority (NYA), Francis Takyi-Koranteng, has called on the government and other relevant stakeholders to take pragmatic steps towards addressing age-related barriers to the development of the youth.
According to him, young people continued to report in various spheres of their lives, particularly in having equal access to education, skills training, employment, political participation, health and justice.
He said "these age-related obstacles deeply impact on their well-being and livelihoods, not only in their youthful stages, but also in their adulthood as well".

Panel discussion
Mr Taki-Koranteng made the call in a speech delivered on his behalf at a panel discussion as part of programmes to commemorate this year's International Youth Day celebration in Bolgatanga.
The event, organised by the NYA in collaboration with the Regional Coordinating Council (RCC) and the United Nations Population Fund (UNFPA), was on the theme: "Intergenerational solidarity: creating a world for all ages".
He stated that the "age-related barriers prevented us from thinking and designing policies and social services that adopt a life-course approach that are fair to all ages and ensure a levelled playing ground for all."
"Therefore, the theme is to amplify the message that action is needed across all generations to achieve the sustainable development goals (SDGs) aimed at leaving no one behind," Mr Taki-Koranteng pointed out.

Important asset
The National Programme Analyst at the UNFPA, Jude Domosie, said that the youth were an important asset to the nation and that the needed steps must be taken to guide them to realise their full potentials in life.

Other speakers
The Bolgatanga Municipal Police Commander, Chief Superintendent Richard Saifu Anaba, implored on the youth to remain focused and vigorously pursue their aspirations in life until they realise them.
He charged them to be careful and not allow themselves to be recruited in the wake of recent terrorist attacks in neighbouring countries to foment trouble in the country.
"Terrorists are only on standby to capitalise on any volatile security situation in a country to cause mayhem," Chief Superintendent Anaba said.
For his part, the Municipal Chief Executive (MCE) for Bolgatanga, Rex Asanga, called for more support for the youth in their quest to pursue productive activities that would eventually grow them into becoming responsible adults in future.
Writer's email: gilbert.agbey@graphic.com.gh