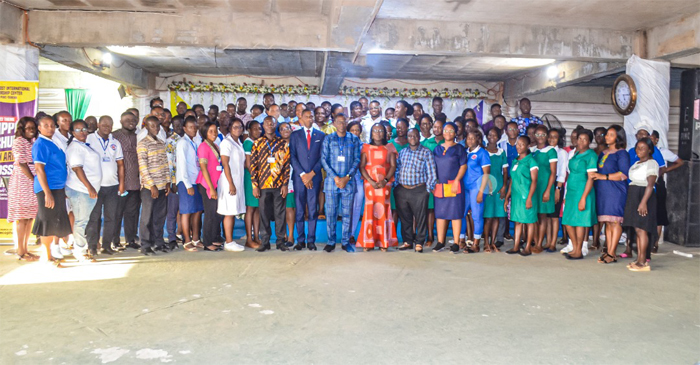 Pentecost Hospital-Tarkwa, one of the three hospitals of The Church of Pentecost, has organised the second edition of its annual award ceremony to reward eight staff for their outstanding services in 2021.
The event, which took place on Tuesday, July 19, 2022, at Pentecost International Worship Centre (PIWC), Tarkwa auditorium, was graced by Pastor Bright Nyamedor of UMaT District, who represented the Tarkwa Area Head, Apostle Dr Daniel Okyere Walker.
Also in attendance were Mrs Caroline Otoo (Tarkwa Municipal Director of Health and a Board Member of the hospital) and Elder Ebenezer Sey (Board Member of the hospital).
Speaking at the ceremony, Pastor Bright Nyamedor entreated all staff to work hard for the betterment of the hospital. He urged the health personnel to see their profession as a calling and should, therefore, execute their mandate with integrity and Christlikeness.
The General Manager of the hospital, Pastor Dr. Suleman De-Graft Issaka, acknowledged all staff for their tremendous efforts in making the facility a hospital of choice.
He stressed that "everyone is a winner in their own way. However, this ceremony is organised to reward outstanding staff in order to motivate others to work harder."
Mrs. Caroline Otoo, in her remarks, commended the hospital for organising such a programme to honour its staff for their hard work and input.
She also challenged staff to change the negative perception of health workers.
Mr Emmanuel Ayi-Mantey, a nursing officer at the hospital, was adjudged the "Best Clinical Staff," Dr. Frank A. Dartey, a Senior Medical Officer, was awarded the "Best Staff in Customer Care" and the "Second-Best Clinical Staff," Mr. Gideon Bediaku, a Senior Administrative Manager, took home the "Best Non-Clinical Staff," while Mr. John Bosco Blay (Snr Executive Officer) received the "Second-Best Non-Clinical Staff" award.
Mrs. Esther Issaka (Head of Theatre and Recovery Ward) was adjudged the "Best Unit Head in Administration and Leadership," Mr. Prince Nkum (Head of Physiotherapy Unit) was adjudged "Best Unit Head in Multitasking," Mr. Ishmael Winnis (Head of Billing and Claims) received the "Best Unit Head in Punctuality" and "General Manager's Special Male" awards, while Miss Esther Frempong (Administrative Manager) received the "General Manager's Special Female" award.
The Theatre and Recovery Ward, Emergency Unit, and the General Ward were presented the "Best Unit," "Second-Best Unit," and "Third-Best Unit" awards, respectively.
The awardees were each presented a citation and a cash prize.
PENTECOST NEWS.