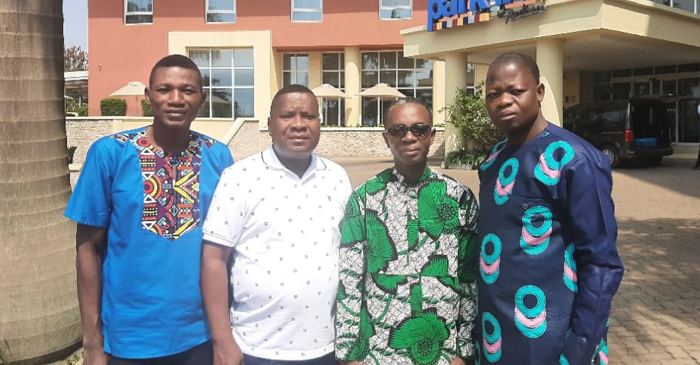 Four ministers of The Church of Pentecost have arrived in Kigali, the capital of Rwanda, for the international conference on orality and theological education in Africa.
The conference, which is taking place at Park Inn in Kigali from July 25 to 29, 2022, is being organised by the International Orality Network Africa (IONA) in partnership with Living Water International Rwanda (LWIR).
The church delegation, made up ofPastors Eric Kwaku Ansah, Alex Kieninger Anum, Ernest Perbi-Asare, and Thomas Ayamboya, have joined other participants from various parts of the African continent for the all-important conference.
Among other objectives, the event seeks to train and equip participants with strategies to decolonise and contextualise theological education in Africa, highlight the role orality can play in this process, explore other areas of orality in theological education in Africa, and find more appropriate ways of discipling "Oral-Bibleless" people groups in Africa.
Again, other action plans for the conference would revolve around faculty, curriculum, accreditation, training, research and partnerships.
The consultative conference would, therefore, afford participants ample time and opportunity to share and discuss strategies and action plans for their implementation plans in and through their theological institutions and discipleship enterprise.
Commissioned presentations and practical discussion sessions have been lined-up to critically and meaningfully engage the aforementioned issues.
Among the speakers for the event is Pastor Ernest Perbi-Asare, one of the Akuapem Twi Translators of The Church of Pentecost and a PhD candidate in Orality Studies at Asian Graduate School of Theology (AGST), Philippines. He has been selected to present a paper on "Oral-Based Assessment in Theological Education."
In an interview with PENTECOST NEWS, the team expressed profound gratitude to the leadership of the Church for sponsoring them to be part of this great conference.
The International Orality Network Africa is an affiliation of agencies and organisations working together with the common goal of making God's word available to oral communicators in culturally appropriate ways that enable church planting movements everywhere.
It is also part of the Lausanne Movement and grew out of the Lausanne Committee for World Evangelism in 2004. It has since grown to be a global network of over 2,000 organisations.
PENTECOST NEWS.