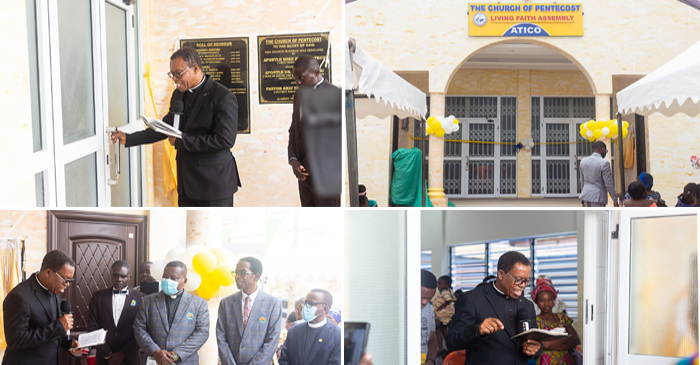 The Living Faith Assembly, located at Atico near Danrose in Bubiashie District in the Kaneshie Area of The Church of Pentecost, has been dedicated to the glory of God.
The project happened to be the first church building under the newly introduced Urban Accelerated Church Buildings (UACB) to be completed and dedicated in the church.
The dedication service was officiated by Apostle Dr. Samuel Ofori (Head of Centre for Ministerial Formation, Pentecost University), assisted by the Bubiashie District Minister, Pastor Eric Kweku Ansah.
The dedication service was attended by the Chief of Bubiashie, Nii Kpatsakole Kumowuo, and his entourage, as well as the Keneshie Area Chieftaincy Ministry Leader, Nana Imprem VIII of Ekumfi Esiam, and some opinion leaders.
Also present were the representatives of Honourable Dakoa Newman (Member of Parliament for Okaikoi South Constituency) and some ministers of the church in the Area.
In a sermon, Apostle Dr. Samuel Ofori cited 1 Kings 8:26-39 and said that the local church must be a house of prayer and sound teachings to equip the members to possess the nations. He also mentioned that as the Lord listened to the cry and prayer of King Solomon during the dedication of the temple in Jerusalem, likewise the Lord will answer every prayer that is lifted up in the new edifice.
The project commenced in May 2021 and was completed in June 2022. It was mainly financed by the Headquarters of the church through the UACB grant and supported by the local church.
Report by Michael Asante.