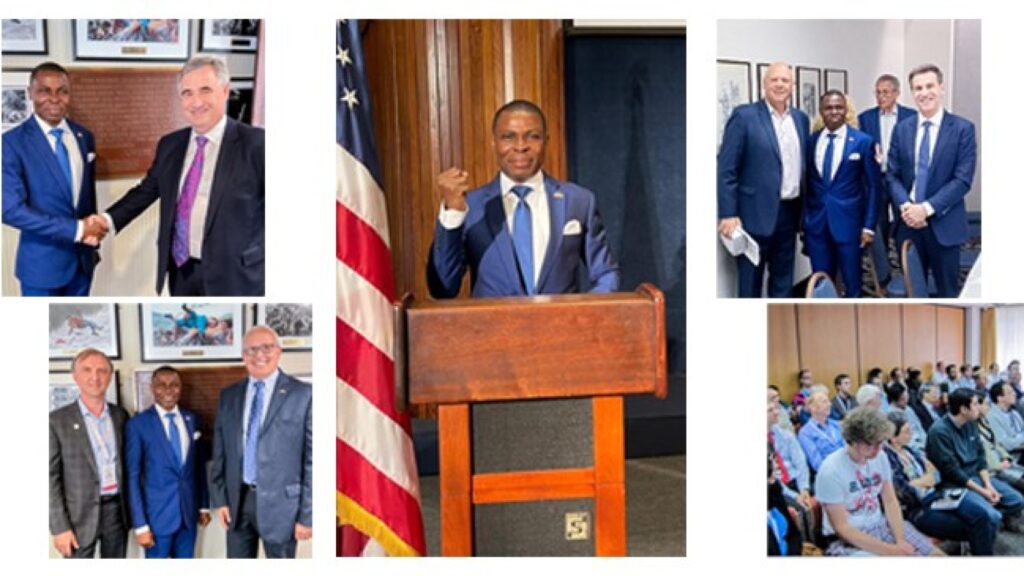 The Head of the Media Department of The Church of Pentecost, Pastor (Dr) Felix Dela Klutse, has urged public affairs professionals and lobbyists in the United States of America and other parts of the world to be circumspect in their professional duties and also influence their spheres with godly values and principles.
He said as more wealth and political power is amassed, many public affairs professionals and various lobbying groups are being influenced to an ever-greater extent by 'big players' across the globe to do their bidding in an unprofessional manner.
"The situation is denting the good image of the public affairs and lobbying profession. But I charge you never to be part of the bad ones but rather aspire to be catalyst for change. There are good folks working in the public affairs and lobbying industry, who are serving a very useful purpose. You must be counted among the righteous ones and not the miscreants."
Pastor (Dr) Klutse, who is also the Resident Minister of Mount Olives Worship Centre, a branch of The Church of Pentecost at Odorkor Area in Accra, made the clarion call yesterday when he addressed Members of the International Governmental Affairs Professionals Association at its 6th Annual General Meetings in the capital city of the United States of America, Washington DC.
International Governmental Affairs Professionals Association is the largest communications platform for governments, industry, and society in the world. Over 700 prominent firms, non-profits organisations, consultancies, and universities, as well as over 10,000 public relations professionals, international lobbyists and top politicians are members of the association.
The event, which is being attended by top US Government officials, politicians, business tycoons, international public or governmental affairs professionals and lobbyists across the globe aims to provide a western insight into the global public affairs marketplace, among other things.
Pastor (Dr) Klutse said the governmental relations environment in the United States remained one of the most vibrant in the world, adding that, "public affairs or governmental relations practitioners and lobbyists ought to adhere to the highest standards of accuracy and truth in advancing the interests of those they represent."
"As governmental or public relations professionals and lobbyists, you serve the public interests by acting as responsible advocates for those you represent. You are expected to provide a voice in the marketplace of ideas, facts, and viewpoints to aid informed public debate. Consequently, you must adhere to ethical procedures that preserve free and open competition among government enterprises without degrading the profession."
Pastor (Dr) Klutse told the gathering that political scientists have long recognised the legitimate uses of lobbying in a democracy as it allows the voice of citizen groups, associations, labour unions, corporations and others to be heard in the political arena.
According to him, the first set of global lobbying guidelines were created in 2010 following the 2008-2009 global financial crisis. A decade on, many countries, he noted, have made progress, but others still have no framework for addressing lobbying risks, lamenting that, where regulations do exist, the rules leave too many grey areas and loopholes.
"Lobbying remains, in many cases, too open to abuse. Where guidelines are in place, they do not cover all levels of government. Too often, information on who is lobbying and how they influence government decisions is incomplete or subject to insufficient scrutiny. Rules on conflict of interest and "revolving door" practices still exist in most settings," he noted.
The Head of Media Department of The Church of Pentecost therefore advised public affair professionals and lobbyists to avoid corrupting their actions and instead utilise them as a legitimate and good force conducted with integrity and transparency.
He noted: "Your activities should enable interest groups to understand, track and shape the development of legislation and regulation. Your efforts must be seen as an integral part of the public decision-making process."
He warned that if lobbying and public affairs activities continue to be opaque and disproportionate, it can lead to administrative bribery and political corruption.
"When such disproportionate influence is leveraged on behalf of a particular set of interests, the decisions that ensue do not necessarily uphold the public interest. In fact, where the influence of business groups becomes excessive, it may result in policy capture or even state capture," he explained.
Pastor (Dr) Klutse called on the various governments across the globe to develop more tougher integrity rules for public affairs officials and lobbyists to ensure integrity in influencing public decisions.
He said the world has over the years, witnessed an increased concern around the influence of foreign governments in domestic life, as they rely more on lobbyists and other methods to promote their goals, stressing that, in most countries, there is no transparency on influence by foreign governments.
"We need greater transparency on who lobbies, how and why. More transparency is needed on all forms of influence," he stressed, adding that, our citizens are gradually losing trust in our institutions, and we need to restore that trust.
Pastor (Dr) Klutse is also calling for criminal charges against governmental public affairs professionals and lobbyists who engage in corrupt practices.
"And they should be prosecuted in a very public way to serve as a deterrent to others who may be willing to do the same," he stated, adding that, this would reinforce the confidence of the people in the fact that the system itself could weed out miscreants from within itself.
Pastor (Dr) Klutse further called for a broader stakeholders' engagement to ensuring that influence is not concentrated in the hands of the powerful as it is the case in some countries where spending on lobbying in some industries remains highly concentrated on only a few big players.
He said his church (The Church of Pentecost) is spearheading a massive campaign where its members go to their various institutions and communities to become an agent of transformation by influencing their spheres with godly values and principles. He therefore made a passionate appeal on the various governments across the globe to partner the church in their respective countries to make the campaign an impactful one.
"Let's all come together to spearhead the change we want to see in our society," he concluded.
The event, which is underway at the National Press Club in Washington DC, started on June 9, 2022 and it is expected to end on June 19, 2022.  Other speakers at the event include Mr. Kendall Coffey (former U.S Attorney),Ms. Dina EllisRochkind (Lobbyist at the Capitol Hill, USA), Ms. Kateryna Odarchenko(Founder of Ukrainian government professional relations association), Mr. Sergey Stanovkin (BBC World News), Mr. Cigler Mihael (CEO of MC Public Affairs and a member of the Advisory Board of the Global FIPRA Network), among other seasoned speakers.
SOURCE: Jeffrey Smith, Washington DC