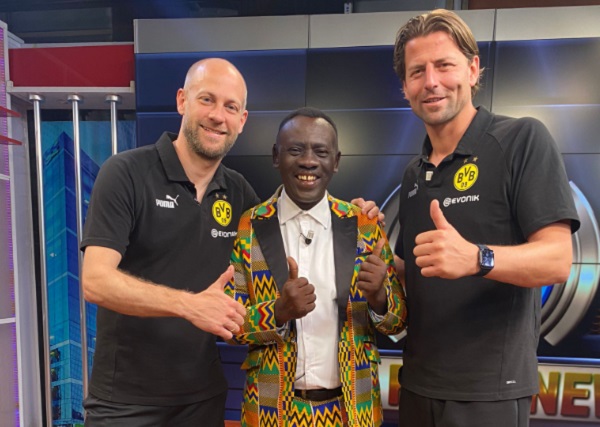 German Bundesliga giants Borussia Dortmund today started the first leg of a historic five-day tour of the country with a coaching clinic at the Achimota School Park in Accra.
The clinic which was the second event on Dortmund's schedule after their arrival on Wednesday, saw youth coaches and legends of the German club put the youngsters from Shooting Stars FC through their paces.
The youngsters were taken through the basics of the sport including passing, shooting and dribbling drills by legends including Victor Ikpeba.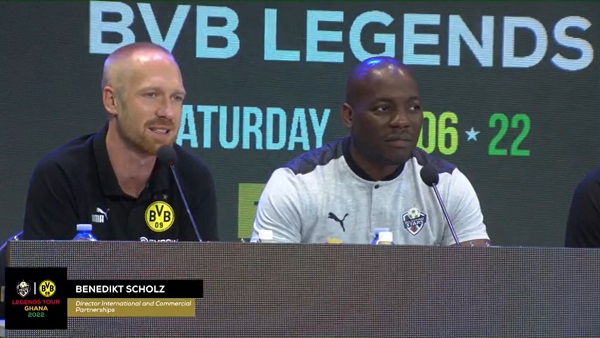 Other events scheduled for the tour include:
• A Youth Development Coaching Clinic, a visit to Chance for Children's home and a Gala Dinner on Thursday, June 9
• A visit to the Omanhene in Akropong at the Okuapeman Palace for a Legends Durbar on Friday, the June 10
• A curtain raiser game between the talented Shooting Stars FC vs a Greater Accra Regional Football Association (GARFA) side to precede the game and;
• A golf tournament on Sunday, June 12, 2022
Historic
Addressing a press briefing before the coaching clinic, the Head of International & Commercial Partnerships of Dortmund, Benedikt Scholz said the visit – Dortmund's first to the African continent – was inspired by the sporting values it shares with its Ghanaian partners Shooting Stars FC.
He said he was hopeful that through the partnership, the tour would result in a long-term deal although Dortmund was looking to make the most of this visit.
"We are here to stay and deepen the partnership with Shooting Stars," Mr Scholz said.
"We haven't set up a five to 10-year plan but we said let's make the most of this event and regroup and see what the next event can be".
For his part, the CEO of Shooting Stars FC, Randolph Rodrigues said the clinic was meant to impart the knowledge and expertise of the Dortmund coaches and ex-players to Ghanaians youngsters.
SOURCE: GraphicOnline