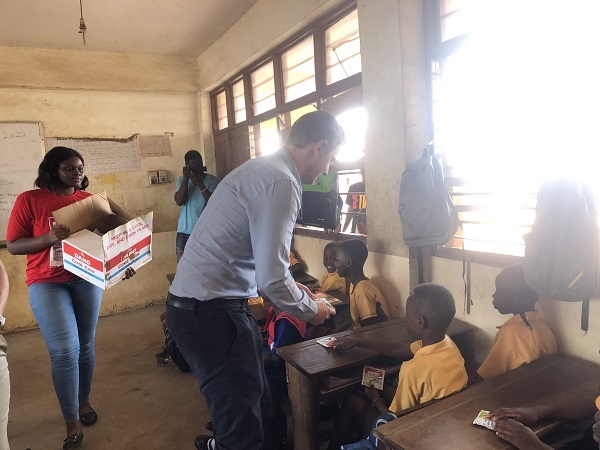 ARLA Foods, producers of Dano milk, has marked this year's World Milk Day celebration with pupils and staff of the Kotobabi Cluster of Schools.
The event, also celebrated by the company's regional team in other jurisdiction was to recognise the significance of milk and its nutritional benefit to the human body, especially children. It is also to help strengthen actions and behaviours that create a sustainable environment.
Speaking at the event yesterday in Accra, the Manager Director of Arla Foods, Vytautas Petronis, said "at Arla foods, we have made it a point not to make this day "one-of-those-days," but to add value and ensure that World Milk Day is duly recognised through a series of activities that highlights the importance of milk and dairy products in our lives, in the economy, in several industries, and to educate people about the health benefits".
He said his outfit sought to provide its consumers with high quality products that would empower and give them mental and physical strength.
"However, this could not have been achieved without paying critical attention to sustainability in the dairy sector, our environment and socio-economic activities.
"At Arla Foods, sustainability means striking the balance between a stronger planet and a stronger people. We believe that the actions we take today will support a stronger planet and enable stronger people for many years to come," he said.
Sustainability
For his part, the Marketing Manager of Arla Foods, Wilson Agbekor Mawufemor, said the degradation of environmental and natural resources still remained a challenge to the world's population.
He said the protection of the environment was essential to the production of products that supported a nutritious and sustainable diet.
To promote sustainable diet with health effects and rich nutritional profile, his outfit was taking action through its Stronger Planet and Enabling Stronger People initiatives.
"The actions we have taken to support good health and nutrition includes setting a stringent criteria as a guiding principle in new products development and recipe formulation. Our products, including Dano Milk, are produced in systems that secure their natural nutrients and state," he said.
Source: Graphic Online