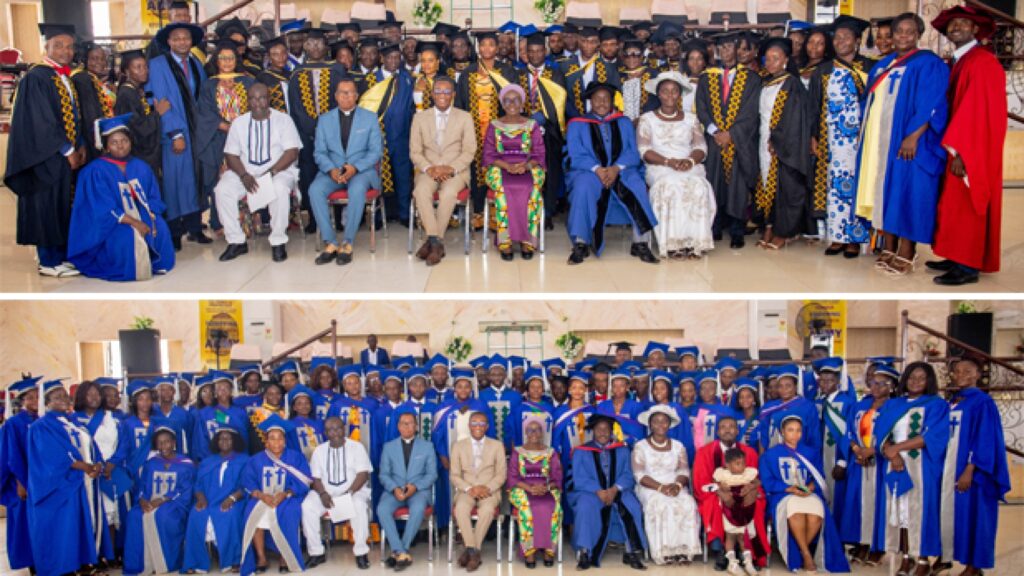 A special graduation ceremony was held yesterday for 27 couples who had successfully passed out of a 12-week Post-Marital School organised by the Shalom Worship Centre of The Church of Pentecost.
The graduands, clad in academic gowns, were beaming with smiles as they each took their turn to receive their certificate at the event which had in attendance the General Secretary of The Church of Pentecost, Apostle Alexander Nana Yaw Kumi-Larbi, and his wife, Mrs. Rose Dansoa Kumi-Larbi.
The Post-Marital School, a novelty of the Resident Minister, Pastor James Agyin, was organised to help promote healthy marriages in the Church.
The school was held on a weekly basis with Pastor Agyin, and his wife, Joyce, as the resource persons. The duration for each session was two hours with take-home assignments in a workbook titled "Becoming One".
Some of the topics treated at the school are: Our Desperate Need for Love and Oneness, God's Purpose for Oneness, God's Provision in Oneness, God's Power in Oneness, God's Instrument of Change: Love and Blessing, God's Order for Marital Oneness, Communication and Conflict Resolution, Managing In-Laws: The Christian Way, Romance: Naked and Unashamed, among others.
According to Pastor Agyin, the first batch of students, made up of 14 couples, was enrolled in 2019, however, the graduation ceremony which was slated for April 2020 was cancelled due to the COVID-19 pandemic and its associated restrictions. He further stated that the sessions for the second batch, comprising of 13 couples, took place from June to September 2021.
"Graduates from both batches have since been added to the pool of counselors at the local and district levels and have really been of immense help to the Church," he added.
Speaking on the topic: "Jesus Christ and His Church; A Model for A Good Marriage," Mrs. Kumi-Larbi challenged Christian couples to honour God with their marriages.
She said that marriage is hard work and therefore requires the utmost commitment of both parties in order to succeed.
"A healthy marriage requires diligent work to build. A good marriage is not something you find; it is something you make and continue making," she said.
Apostle Kumi-Larbi, on his part, challenged Christians to lead by example in every aspect of their lives. He urged them to endeavour to practice what they preach so that others, especially the younger generation, can emulate them.
"Until we practice what we preach, our leadership would yield little or no results," he cautioned.
The General Secretary, therefore, urged the graduands to do well to practice all they had learnt during the training period.
Apostle Dr. Samuel Ofori, a Lecturer at the School of Theology, Mission and Leadership of Pentecost University, who represented the Kaneshie Area Head at the event, commended the participants for availing themselves to undergo training.
He noted that there is a clear connection between study and humility, hence they should continue to avail themselves for training, saying that: "Arrogance and a teachable spirit are mutually exclusive."
The event also saw 100 members of the Church receiving certificates for successfully completing a 40-week discipleship programme, dubbed the "Shalom Workers' College."
PENTECOST NEWS.