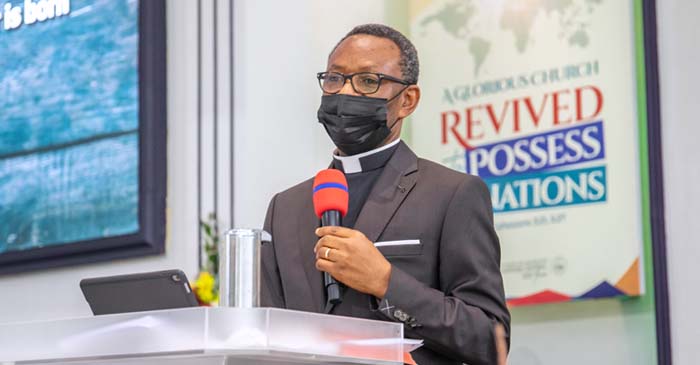 In a dispensation where the media is saturated with news stories of doom and gloom, the General Secretary of The Church of Pentecost, Apostle Alexander Nana Yaw Kumi-Larbi, says it is very refreshing to retell the good news of the birth of Jesus Christ, the Saviour of the world, through the celebration of Christmas.
Delivering a sermon today on the topic: "Joy To The World, A Saviour Is Born" (Luke 2:8-16) at the Mamprobi Central Assembly, Apostle Kumi-Larbi said that there is a deliberate attempt to gradually shift Christmas from its central focus as a celebration of Christ.
He noted that some people are determined to take away the Christ factor from Christmas and rather observe the period as a holiday.
"How can we say we are celebrating the birthday of a 'person' and yet not want Him to be part of the celebration?" he wondered.
Apostle Kumi-Larbi, therefore, urged Christians not to fall for this subtle-ungodly agenda and rather commit to reestablishing the essence of Christmas, which is to celebrate the goodness that came out of the birth of Christ.
Touching on the significance of the birth of Christ, the General Secretary explained that the depraved nature of the human race, which resulted from sin (disobedience) caused them to attract the wrath of God (Romans 3:23, Romans 1:18, 31-32).
He said that to restore humans to their former glory, God intervened by coming down to redeem mankind from sin in fulfillment of the prophecy given by Prophet Isaiah (Isaiah 7:8-9).
"[The Book of Matthew] records that in the appointed time Isaiah's prophecy came to past; God came down to earth in the flesh to save mankind through the birth of Christ. So, His birth was a confirmation of God's salvation for mankind," he said.
He further noted that Christ is God's gift to the world so that through Him, all those who believe would become God's children as He originally intended before the fall.
Apostle Kumi-Larbi also stressed that Jesus is a total package, describing Him as "the wonderful Counselor; Mighty God, Everlasting Father and Prince of Peace," and that without Him, life on earth has no meaning. These, according to him, are among the many reasons why the birth of Christ is worth celebrating.
The General Secretary, therefore, advised unbelievers to accept Jesus Christ into their lives to enjoy the numerous benefits of His birth.
He also urged believers to hold firmly to Christ and walk with Him throughout the ensuing year to experience a truly prosperous New Year.
The service, which was the climax of this year's Christmas Conventions, had in attendance members from all four assemblies (Mamprobi Central Assembly, Bethel Assembly, Korle-Bu Assembly, and English Assembly) of the Mamprobi District in the Dansoman Area of the Church.
Merry Christmas!
PENTECOST NEWS