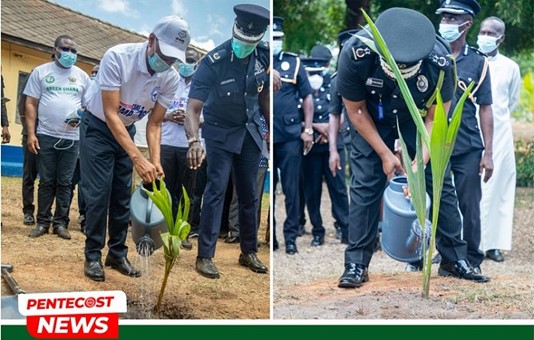 The Church of Pentecost has joined forces with the Ghana Police Service to plant trees at the National Police Training School, Tesano in Accra as part of efforts to green Ghana and preserve the environment.
The General Secretary of the Church, Apostle Alexander Nana Yaw Kumi-Larbi, together with the Inspector-General of Police (IGP), Mr. James Oppong-Boanuh, and members of the Police Management Board (POMAB), on Friday, June 11, 2021, planted commemorative trees at the Police Depot to mark the Green Ghana Day, which saw the planting of 5 million trees across the country.
In a speech to herald the exercise, the IGP said that the Police Service was planting 5,000 trees out of the 5 million trees at all police facilities across the country as part of their contribution to the Government's Green Project.
The IGP indicated that the exercise was to be replicated at all police stations and facilities nationwide where all Regional, Divisional, and District Commanders, as well as Station Officers, were to plant a minimum of three seedlings each at their offices/stations. "Our officers commanding all the six police training schools will equally plant 50 seedlings each," he added.
He disclosed that monitoring and reporting teams will go round to inspect the trees to ensure that they are nurtured and catered for so that they will grow to maturity.
"Our objectives are aligned to the objectives of the government in connection with the Greening Project, which is to embark on an aggressive afforestation programme to protect the forest and the environment, and to address the degradation of Ghana's forest reserve and ecosystem, and also to achieve our goal of protecting our forest.
"For those of us in the Ghana Police Service, this will help us to beautify our police stations and offices, and especially our training schools which have large compounds," he stated.
Speaking with Pent TV, Apostle Alexander Nana Yaw Kumi-Larbi expressed his joy over the successful take-off of the project. "I am fulfilled and I feel relief because it's a burden that our Chairman shared with us. Later when the Government came on board it gladdened our hearts, so we were waiting and praying that God will give us life to see it come to reality.
"This is our core duty given out by God to protect his creation. We are not just planting trees, we are encouraging ourselves to plant, water, and nurture and make sure that they grow. I have planted three trees today and I want to challenge every Ghanaian to endeavour to plant at least one tree either in your house, workplace, school and in the street. Wherever we find space let us plant it.
"So far we have not done well towards the environment looking at the way we are destroying our river bodies and littering around, with choke gutters all over. God gave us the environment to protect it, and it is about time Ghanaians sat down and realised that we cannot mess up our environment and still hope to live in it and enjoy good health. So as we have started today, let's all come on board, brace this vision and rid our nation of filth.
"A real gentleman/lady is a person who does not liter. Please don't put your rubbish on the ground; put it in your bag because it is your own waste. Let's change our attitude and our environment will be clean and the air we breathe will be pure, and it will help us to live longer.
On his part, the National Coordinator of the church's Tree Planting Project, Apostle Samuel Kojo Gakpetor, said that The Church of Pentecost started the tree planting exercise nationwide about two weeks ago. "Today being Green Ghana Day, we came on board the Government's initiative to push the Green Ghana Day agenda. To God's glory, we have seen massive involvement of our churches across Ghana. "This is just the beginning. As we activate our consciences on the need to keep our environment clean, we pray that this is not just going to be a nine-day wonder. All of us should look out for opportunities to plant trees any day any time," he said.