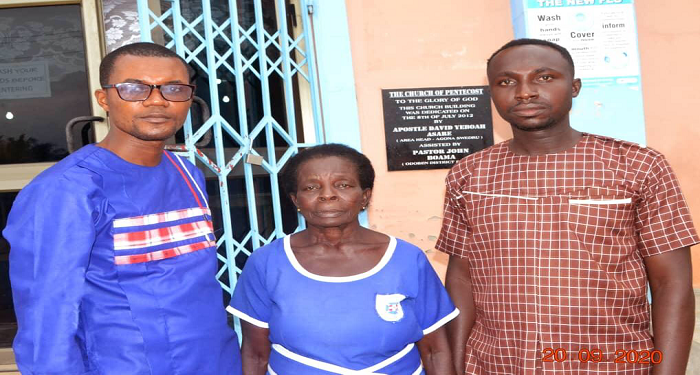 Madam Elizabeth Yamoah, 57, the oldest Basic Education Certificate Examination (BECE) candidate for 2020, is a member of The Church of Pentecost in the Kuntanase District of the Agona Swedru Area. She was among over 500,000 registered candidates who sat for the just-ended examinations.
She enrolled at the Agona Odoben Presbyterian Basic 'A' Junior High School three years ago at age 54 intending to study to be able to read the Bible.
There were tears of joy when she finally completed her Junior High School education as she was celebrated by her mates and teachers after her last paper.
In an interview with the press, she said she became a laughing stock among her peers and the talk of the town when she made up her mind to attend school.
"When I made up my mind to go to school people in my community mocked me. Some even said that I should leave education for the young ones, but I was determined to learn how to read and write, and that helped me through my education."
Madam Elizabeth Yamoah indicated that she wants to further her education at the Senior High School with the dream of becoming a nurse. According to the mother-of-four, her resilience to attend school despite her age must motivate others to do the same.
She has since received a cash prize of GH¢1, 000.00 from the Swedru Teachers' Co-operation Credit Union (STCCU). Elizabeth Yamoah, who happens to be a member of the STCCU, has also been appointed as Ambassador for the Union's Youth Savings Account.
She has also received GH¢ 2000.00 from the Despite Media to use it to further her education.
The Breman Kuntanase District Minister of The Church of Pentecost, Pastor James Ekow Amoah, was of the view that her achievement will inspire both the young and old to work hard to achieve their dreams no matter the obstacles they may encounter.