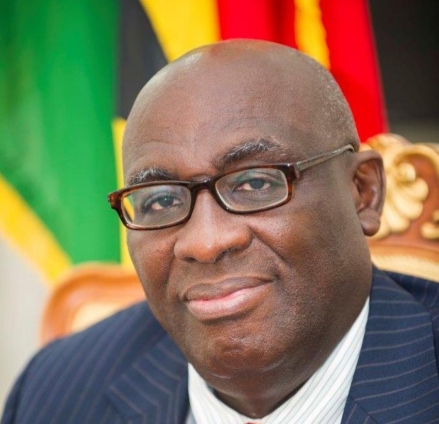 Ghana's High Commissioner to the UK and Ireland, Papa Owusu-Ankoma, has revealed that the Ministry of Finance has made some significant progress towards reaching a settlement for the $140 million judgment debt due Singaporean commodity trading firm, Trafigura.
According to him, one of Ghana's properties, the Regina House which is used for commercial purpose, and has been attached by Trafigura, will not be sold to defray part of the debt.
"We will not get to that stage where these assets will be sold to defray the debts, because of progress made on reaching a settlement", he stressed.
He spoke on PM Express Business Edition with host George Wiafe in London on November 2, 2023.https://cdn.vuukle.com/widgets/quiz.html?version=1.11.12Advertisement
Mr. Owusu-Akomah described the events leading to the action by Trafigura as unfortunate, but maintained that everything is being done to deal with the situation.
Background
Trafigura, a Singaporean commodities trading company, and a majority owner of GPGC a power company secured an award in January 2021.
This is after a tribunal in England found that Ghana had unlawfully terminated a contract for the installation and operation of two power plants.
On November 4, 2021, the Court granted Trafigura leave to enforce the award in the same manner as a judgment of the High Court.
On May 17, 2022, Trafigura issued an application for charging orders in relation to the five London properties which Ghana had a freehold or leasehold interest.
But Deputy Attorney General Alfred Tuah-Yeboah in an interview with Joy News disclosed that government had already asked the Finance Ministry to take steps to liquidate the debt.
According to him, the Finance Ministry entered into an agreement with the judgment creditors on how the state was going to pay the debt of about $140 million.
Although part payment was made, the Deputy Attorney General admitted that the state reneged on its promise to go by the instalment agreement.
Has the action affected Ghana's High Commission?
Mr. Owusu-Ankomah rejected claims that the development has brought work at Ghana's High Commission to a "Stand Still".
"Whatever that happened has not affected work or the services that we are offering here in London and UK", he said.
He clarified that the Ghana International Bank which operates from the Regina House has not been affected.
Mr. Owusu-Ankomah however acknowledged that the news is unfortunate.
Ghana UK Trade Relations
Touching on trade issues, Mr. Owusu Akomah said there has been some progress in trade between Ghana and the UK.
He advised Ghanaian businesses seeking to partner with investors in the U.K to take advantage of the opportunities designed by government to foster bilateral relations.
He pointed out that Ghanaian business owners can take advantage of technical assistance provided by the U.K government.
IMF programme and UK relationship
Speaking on the IMF programme, the High Commissioner said signing onto the programme has resulted in the U.K unfreezing some financial support to Ghana.
He assured that the High Commission will continue to encourage U.K investors to partner Ghanaian businesses.
Source: myjoyonline.com