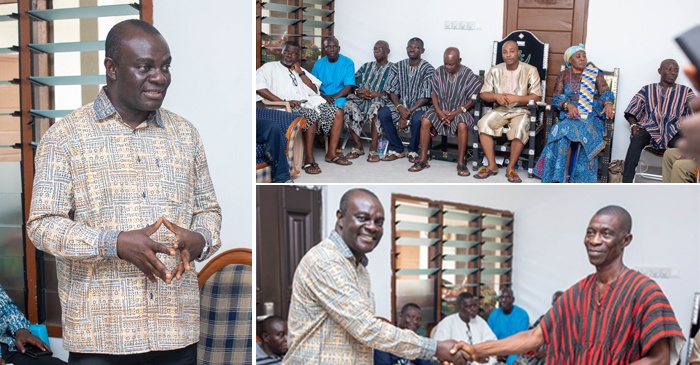 "The Church of Pentecost is a formidable force, and I know when you speak, the government listens. So, I am pleading with you to liaise with the government to help find a lasting solution to this dam spillage and its attendant issues," the Mankrado of Mepe, Togbe Korsi Nego VI, has stated.
He said this on Monday during an interaction with the General Secretary of The Church of Pentecost, Apostle Samuel Gyau Obuobi, and other senior officials of the church who paid a courtesy call on him at his palace at Mepe to commiserate with them, following the havoc caused by the Akosombo Dam spillage.
According to the chief, almost 16,000 community inhabitants have been affected by the floods, most of whom have been displaced and their sources of livelihood utterly destroyed.
Narrating how the incident happened, Togbe Korsi Nego disclosed that about two weeks ago, the Volta River Authority (VRA) opened the dam's spillways, submerging the whole community. He blamed the VRA for not being proactive in managing the situation.
He alleged that instead of the VRA opening the spillways gradually, they waited till the dam became full before opening it, thereby compounding the effects on the people of the Lower Volta.
"The flooding has brought untold hardship to my people. We have lost our houses and livelihoods, and thousands are now homeless," he said, adding, "We hope that this would be the last time this disaster is happening after the 1963 incident. We pray that the government and the VRA will take the necessary steps to address this menace."
The Mamaga of Mepe, Adzo Sreku IV, praised The Church of Pentecost for its commitment to social services and national development. "We saw the contribution The Church of Pentecost made during the COVID, and I'm glad that the church has shown up to support our people," Mamaga Adzo Sreku said.
On his part, the General Secretary of the church, Apostle Samuel Gyau Obuobi, said the Chairman of the church, Apostle Eric Nyamekye, the Executive Council, and the entire membership of the church were deeply concerned about the situation in Mepe and neighbouring communities.
Describing the situation as very critical, Apostle Obuobi was thankful to God for keeping the people safe in the melee.
"We are concerned about what is happening here. The whole situation is very critical. We pray that God will protect your people from further actions of the spillage," he said. He added: "We have come to show love. We love you and are solidly behind you in these terrible times."
On behalf of the Chairman, the General Secretary donated an undisclosed cash of money and bags of rice to the palace.
PENTECOST NEWS