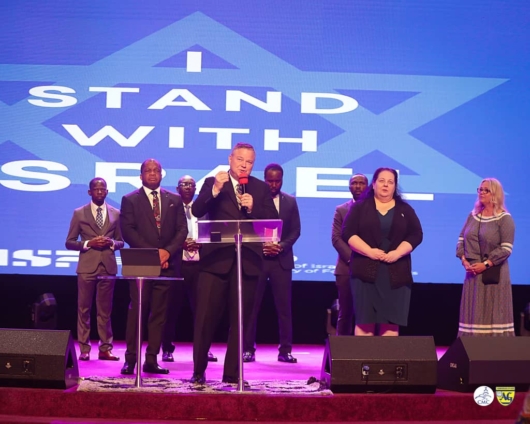 The Israeli Ambassador to Ghana H.E Shlomit Sufa, has visited the Cedar Mountain Chapel, East Legon to worship and seek prayer for the nation of Israel and further explain current happenings in the country to the General Superintendent of the Assemblies of God-Ghana, Rev. Stephen Wengam.
The Ambassador appealed for prayer and diverse support for her nation and condemned in no uncertain terms the attack on Israel by Hamas.
She also called for the unconditional release of the individuals held hostage.
The General Superintendent of Assemblies of God-Ghana and Lead Pastor of Cedar Mountain Chapel on his part, extended the sympathies of the church to the nation of Israel.
He further quoted Psalm 122:6-8 and explained that the Bible enjoins Christians to support and pray for the nation of Israel unconditionally.
Rev. Wengam equally condemned the recent attack on ordinary and innocent civilians and the abduction of some to an unknown destination.
He also led the congregation to pray fervently for Israel and the Middle East in general and for the release of those held hostage.
Concluding his remarks, the General Superintendent asked the nation of Israel to be measured in their response to Hamas attacks that led to the death of about 1,400 people with 200 others kidnapped.
Rev. Wengam said, "We know that you have been provoked to an unimaginable proportion…the Bible says, we don't meet anger with anger. We will pray for restrain on behalf of Israel and divine guidance on how to deal with the issue at hand and also trust that the good Lord will intervene for these men, women, and children who have been held hostage."
He assured that the "Lord will have mercy and send his angels and in the coming weeks there will be miraculous intervention.
Furthermore, the Israeli Ambassador to Ghana, Shlomit Sufa called on all friends of Israel to stand with them in their tough times.
She recalled that "two weeks ago evil struck southern Israel beyond imagination."
Ambassador Shlomit assured friends of Israel that, Israel would win the battle against Hamas.
Also in attendance was the Burkinabe Ambassador to Ghana H.E David Kabre, who is a member of Cedar Mountain Chapel and Rev. Mark Morrow of the USA who's on a missionary visit to Ghana.