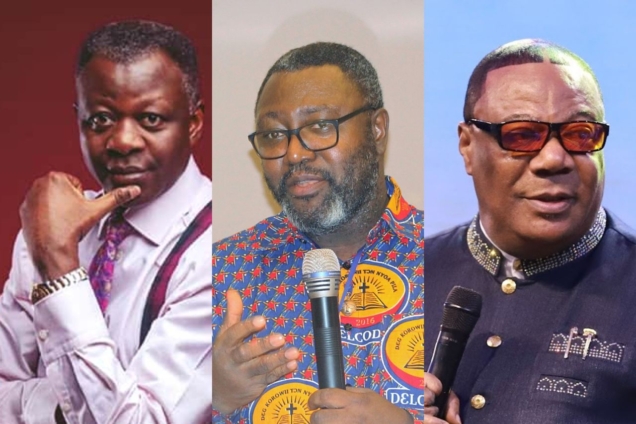 The National Cathedral Project Secretariat has challenged the assertion of a lack of 'needed audit' by Archbishop Nicholas Duncan-Williams, and Rev. Eastwood Anaba, as their stated grounds for resigning from the Board of Trustees overseeing the construction of the National Cathedral.
Executive Director of the National Cathedral Secretariat, Dr. Paul Opoku-Mensah, contested the basis for the clergymen's recent resignation, stating that their grounds for departure are flawed.
On October 12, 2023, the prominent clergymen – Archbishop Duncan-Williams, founder of the United Denominations of Action Chapel Churches Worldwide, and Rev. Anaba, President of Eastwood Anaba Ministries – tendered a joint resignation from the Board of Trustees, citing the government's failure to appoint an independent accounting firm to conduct a comprehensive audit of all public funds contributed to the National Cathedral as their reason for stepping down.
"Despite our prayers, best hopes and wishes, unfortunately, a needed audit to help restore public confidence and trust in this consequential project has not been enacted to the best of our knowledge. Since January 2023, we awaited news, to no avail regarding the finding of the audit," portions of their letter read.https://cdn.vuukle.com/widgets/quiz.html?version=1.11.7Advertisement
But the Executive Director of the National Cathedral project says an audit had already started.
In a rebuttal on October 17, Dr Paul Opoku-Mensah insisted that following the clergymen's January 23 resolution, Deloitte was engaged in March to begin the audit and were expected to complete same in July 2023.
Dr Opoku-Mensah says "the Board was constantly updated on the process through the Chairman and the Steering Committee, as well as the Executive Director's reports of the meetings of the Board" on June 5, 2023.
The Executive Director further cited another September 27 meeting where he updated the Board that "following a number of delays due to documentation, it is now hoped that the audit will be completed soon to enable fundraising to restart in earnest."
On the back of all of these, the Secretariat describes it as falsehood for the two former board members to attribute their action to a supposed inaction on the demand for an audit.
"Although Archbishop Duncan-Williams and Rev Eastwood Anaba were not present at both the June 2023 and September 2023 meetings, they and all the other Board members who were not physically present at the meeting were sent copies of all the documents for the Board meeting, including the Executive Director's report. The claim that they have received no information, whatsoever, on the audit process is therefore false," the Executive Director National Cathedral wrote in the October 18 press release.
Read the full statement here:https://drive.google.com/file/d/1RBOpQ2NWhdZVliwnVpeL2DYprPzAKYTe/preview
Source: myjoyonline.com