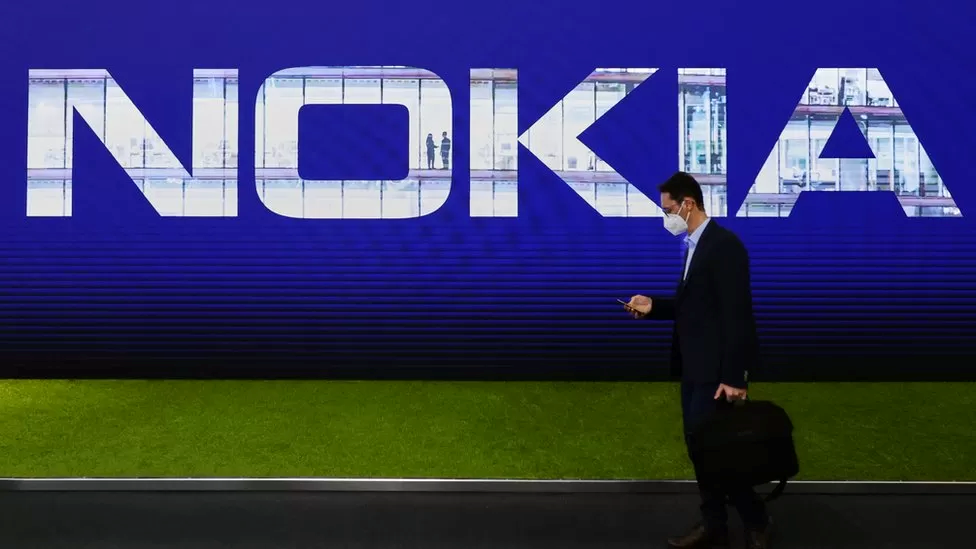 Finnish telecoms giant Nokia is to axe between 9,000 and 14,000 jobs by the end of 2026 to cut costs.
The announcement was made as the company reported a 20% drop in sales between July and September.
The company blamed slowing demand for 5G equipment in markets such as North America.
It currently has 86,000 employees around the world, and has axed thousands of jobs since 2015.
Nokia wants to cut costs by between €800m and €1.2bn (£695m-£1bn) by 2026, it said.
Advances in cloud computing and AI will need "significant investments in networks that have vastly improved capabilities", said chief executive Pekka Lundmark.
"However, given the uncertain timing of the market recovery, we are now taking decisive action," he said.
It said it wanted to "act quickly" by cutting costs by €400m in 2024, and €300m in 2025.
Mr Lundmark added that despite "ongoing uncertainty", Nokia expected to "an improvement in our network businesses" in the current quarter.
Stalling 5G
Nokia was once the biggest handset manufacturer in the world, but it failed to anticipate the popularity of internet-enabled touchscreen phones such as Apple's iPhone and Samsung's Galaxy and was knocked from its perch by rivals.
After selling its handset business to Microsoft, which the software giant later wrote off, Nokia concentrated on telecoms equipment.
In 2020, Nokia became a major beneficiary of Huawei being blocked from the UK's 5G networks after striking a deal to become the largest equipment provider to BT.
But 5G equipment makers have been struggling as operators in the US and the EU cut spending.
Nokia and Swedish rival, Ericsson, have been trying to offset some of the weakness with higher sales to India, but 5G rollout has also been slowing down there.
Earlier this week Ericsson reported a fall in sales.
The firm has also laid off thousands of employees this year, and said on Tuesday the uncertainty affecting its business would persist into 2024.
Source: bbc.com