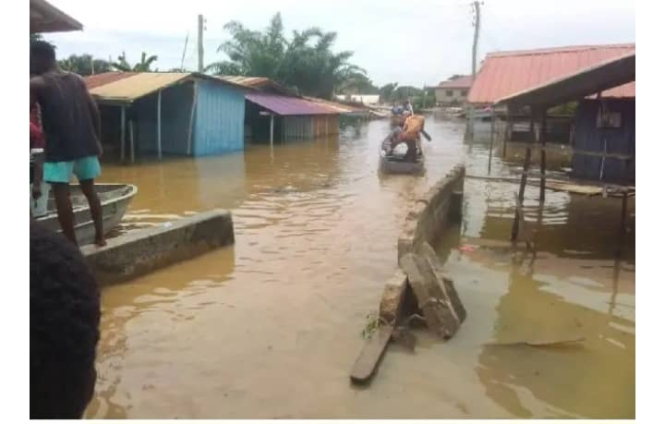 There is danger ahead for thousands of residents in parts of the Volta region affected by the floods caused by spilled waters from the Akosombo and Kpong Dams.
This is because some of the displaced persons in North and South Tongu in the Volta region are resorting to using polluted water for some of the chores.
The flooding of the area did not only displace residents and destroy their livelihoods, but it also led to Ghana Water Company in the region shutting down.
The outbreak of cholera and other waterborne diseases is imminent due to the use of polluted water.https://cdn.vuukle.com/widgets/quiz.html?version=1.11.8Advertisement
The Queenmother of Sokpoe in the North Tongue District of the Volta region, Mamaga Adzesu is worried residents may show signs of infections soon if the polluted water situation is not addressed immediately.https://7403a2887d8469953fbfec29a6032631.safeframe.googlesyndication.com/safeframe/1-0-40/html/container.html
"The water is highly polluted, they have to come to our aid. We went for a meeting on Sunday and the MP suggested we use the Agohome Dam – that one they will be able to sterilise it.
"He mentioned some chemicals the VRA is supposed to buy so that they would be able to open the tap intermittently, but as I am speaking now, the tap is not flowing and for weeks now, we don't have water.
"We need to drink, bath, wash, and cook. What water are we going to use for all these activities? It is a problem for us," she lamented.
"My fear is after this then the sicknesses will start coming up."
The District Chief Executive for North Tongu, Devine Afenu, told JoyNews local health officials are collaborating with personnel from the Ghana Medical Association to undertake screening of all those affected by the flooding in the communities.
According to him, the team has been able to establish mobile clinics in the areas and screening has begun.
Source: myjoyonline.com