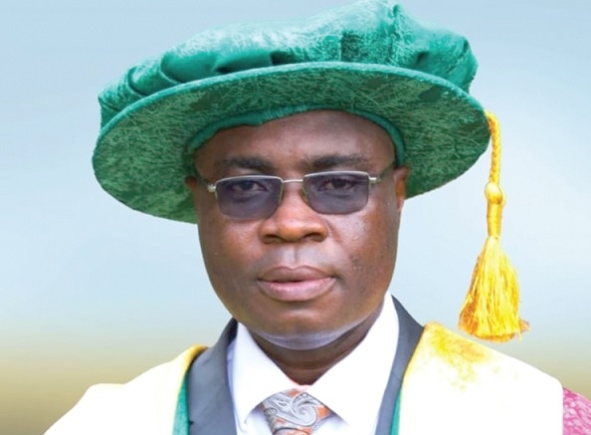 The University of Education Winneba (UEW) has appointed Professor Stephen Jobson Mitchual as Vice-Chancellor.
This takes effect from October 1, 2023 after the tenure of the current Vice-Chancellor, Prof. Mawotor Avoke, ends on September 30, 2023.
Prof. Avoke will be retiring from UEW after almost 31 years of work.
New VC
Prof. Mitchual holds a doctorate degree in Wood Science and Technology from Kwame Nkrumah University of Science and Technology and has over 20 years of experience in teaching and administrative experience in higher education.
He has a masters in Wood Technology and Management, and degree in Agriculture Engineering and a postgraduate Diploma in Education obtained from the University of Cape Coast in 1998.
Before his appointment, Prof. Mitchual was the acting Pro-Vice-Chancellor and acting Dean of the School of Graduate Studies of the Akenten Appiah-Menka University of Skills Training and Entrepreneurial Development (AAMUSTED).
Prof. Avoke, in a valedictory speech said "I wish to use this opportunity to thank the Governing Council and all those who supported us to build UEW to what it is now.
I am thankful for the opportunity to serve as Vice-Chancellor of UEW.
A rare opportunity for only a few professors; and its the Lord who crowns."
"Professor Stephen Jobson Mitchual will resume office as the incoming Vice-Chancellor from 1st October, 2023. I wish to congratulate him and within the same breath entreat all faculty to embrace and support him."
He indicated that apart from a few distractions by a cohort of staff, often too timid to use their real names, but rather come as concerned staff, peace and sanity had been restored to UEW.
"Workers don't feel intimidated generally any longer and are all focused towards working to realise their dreams and that of UEW," he added.
Prof. Avoke gave the speech at the second session of the 27th graduation of the university at the weekend.He called on all stakeholders to support Prof. Mitchual to make his tenure successful.
In all, 8,356 students will be graduating. Out of the figure, 1,732 students were awarded diplomas, 5,492 students were awarded first degrees and 1,132 students were awarded various postgraduate degrees.
Among the first-degree graduates, 182 obtained first class, 932 had second class upper, 1,755 had second class lower, 1,821 had third class while 802 obtained a pass.
The graduands included 3,611 students from the College for Distance and e-Learning (CODeL).
Prof. Avoke advised the graduands to be adaptable, open to new experiences, and be willing to embrace change as it was a key driver of success.
Source: Graphiconline.com