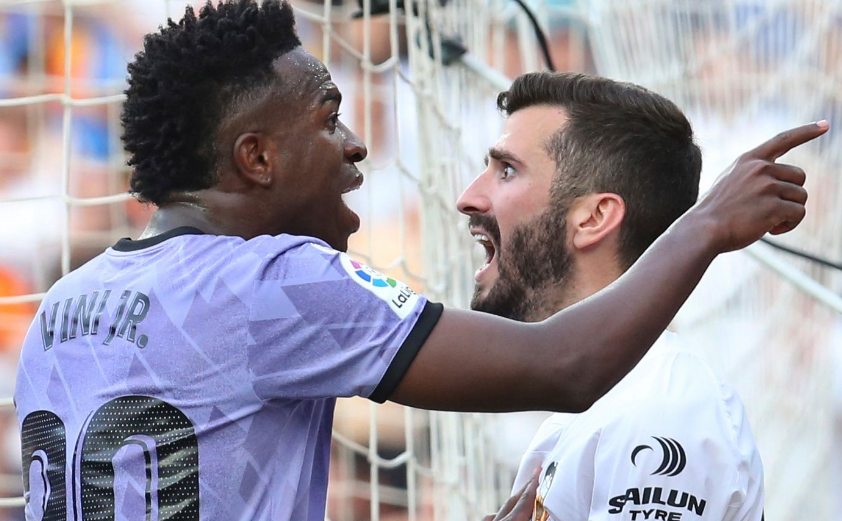 Vinicius Junior was subject to racist abuse during Real Madrid's 1-0 defeat to Valencia on Sunday; it is not the first time the 22-year-old has been abused this season; LaLiga president Javier Tebas told Vinicius to "inform yourself", prompting an angry response from Real winger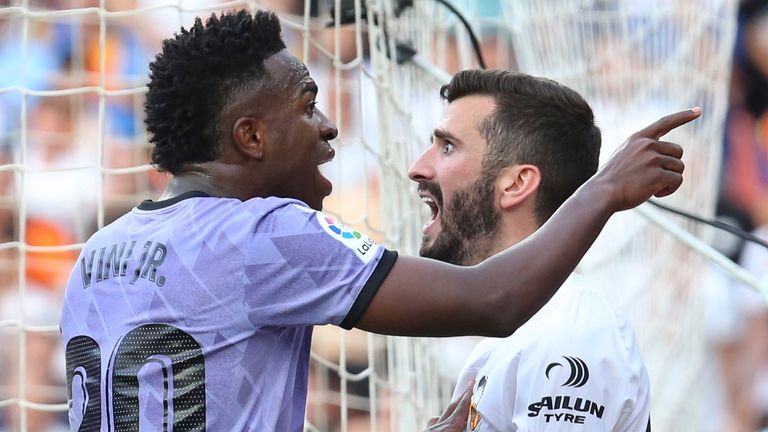 Vinicius was targeted by chants from sections of the crowd at the Mestalla during Real Madrid's 1-0 loss to Valencia, with the game being stopped in the second half for 10 minutes as the visibly angry 22-year-old grabbed the referee and pointed towards fans who he felt had abused him.
Vinicius was later sent off for violent conduct in added time following an altercation with striker Hugo Duro.
He tweeted after the game:"It wasn't the first time, nor the second, nor the third. Racism is normal in LaLiga. In football they think it's normal, the federation does too – and the opponent encourages it.
"I'm so sad. The championship that once belonged to Ronaldinho, Ronaldo, Cristiano [Ronaldo] and [Lionel] Messi today belongs to racism.
"A beautiful nation, which welcomed me and which I love, but which agreed to export the image of a racist country to the world.
"I'm sorry for the Spaniards who don't agree but today, in Brazil, Spain is known as a country of racists. And unfortunately, for something that happens each week, I have no defence. I let it happen.
"But I am strong and I will go to the end against racists. Even if it is far from here."
A statement from Real on Monday read: "Real Madrid strongly condemns the events that took place yesterday against our player Vinicius Junior. These events represent a direct attack on the social and democratic model of coexistence of our state based on the rule of law.
"Real Madrid believes that such attacks also constitute a hate crime and has therefore filed the corresponding report with the Attorney General's Office, specifically with the Prosecutor's Office against crimes of hatred and discrimination, in order for the facts to be investigated and for those responsible to be held accountable."